Max Verstappen impressed his team boss Christian Horner at Zandvoort. He did this by remaining calm under the immense pressure of his home crowd.
"This track is only on the calendar for one reason, and that is Max", Horner wanted to emphasize after his driver's victory in the North Holland dunes.
"There is a really unique atmosphere here; the promoters are doing a great job," the Brit praised the event at Zandvoort. "It's actually too small for Formula 1, but so is Monaco. It's a challenge and the drivers love this track. But then there's the Max effect. When you come here you feel the atmosphere. It's a great Grand Prix."
Verstappen therefore has to perform under that pressure, because the lion's share of the spectators expects a victory from the World Cup leader. Horner sees that his driver is not completely unaffected. "He's not a robot. Of course there's pressure. You can see that in his face."
"There are 100,000 people here singing the national anthem. The royal family is coming to say hello to him before he gets into the car," Horner continued. "That's a big moment for every home driver, so you have to feel something about that."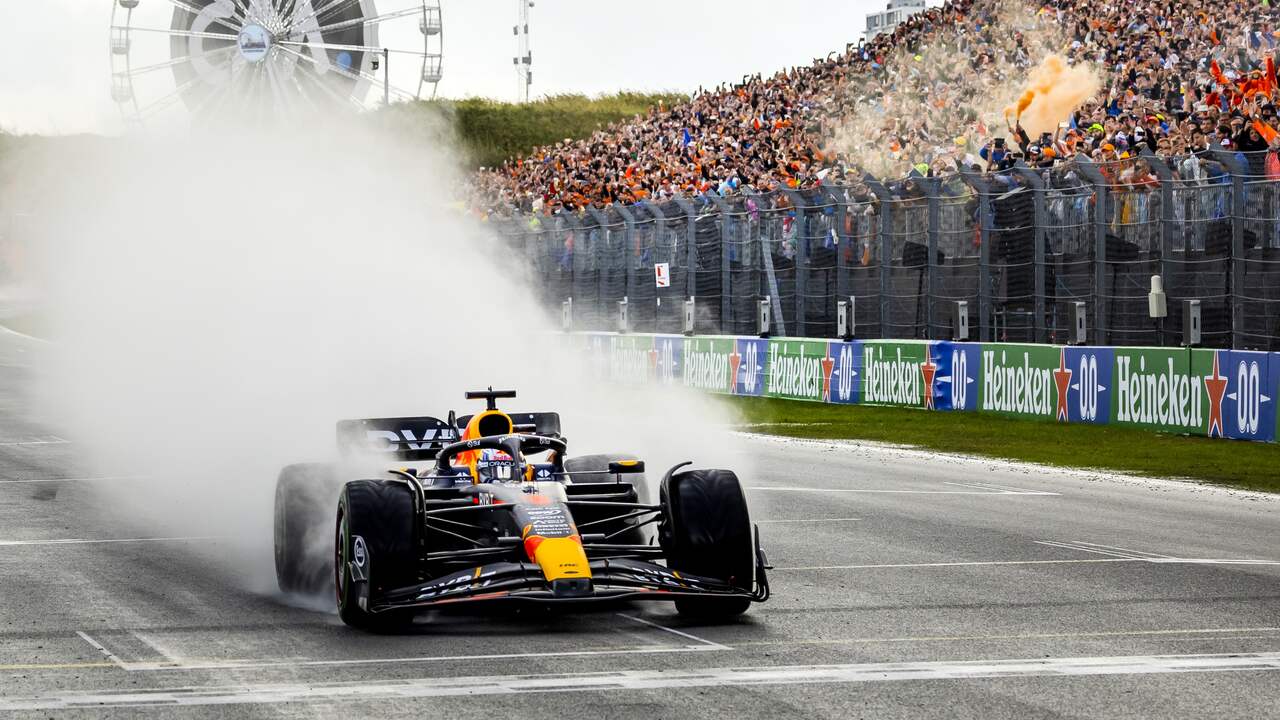 1:46 Play button
'Consider it a normal Grand Prix'
His team boss is therefore counting on Verstappen to have driven off the circuit with a sense of relief on Sunday evening. "You ticked that off again."
Horner praises the team around the Dutchman, which ensures that the attention does not become too much for him. "He doesn't get overworked. He isn't pulled too much. They consider it any normal Formula 1 weekend."
At a few moments Verstappen showed his team boss that he can handle the pressure well. "Look at his first lap in qualifying. Max shoots off in turn 1, and the next lap is blocked. Meanwhile, a dark cloud is coming. Many drivers are under that pressure," Horner looked back.
"And then there was that situation in the race, when they switched to intermediates in the opening stages. Max was in the lead, but comes out of the pits with a lot of cars in front of him. The way he then cuts through the field is unbelievable. There are really a lot of drivers who succumb to that. But Max keeps his head cool. He was phenomenal."
Second time nine wins in a row
It was the ninth consecutive victory for the Limburger, equaling the record that Sebastian Vettel set in 2013 with the same team. Horner was also team boss at Red Bull at the time.
"I never expected that we would do that again, and now here we are ten years later and Max has done it too. That is very special for the team," the Englishman laughed.
Verstappen himself invariably gives the impression little to give those kinds of records, but according to Horner that is an illusion. "Silently he is really proud of that."
---
---