Christian Horner defends his driver Sergio Pérez, who was again quite inferior to winner and teammate Max Verstappen in the Dutch Grand Prix on Sunday. According to his team boss, there is simply no measure on the World Cup leader.
It seemed like a masterstroke by Pérez in the first round. The Mexican immediately dived in on his own initiative when the first shower of the race fell. Verstappen stopped for intermediates one lap later and rejoined the track with a considerable gap of thirteen seconds behind his teammate. The Limburger closed that gap at a worrying pace for Pérez.
"Sergio made the decision to come in himself, and that worked out well. He was the first from the front", Horner looked back on the chaotic race in Zandvoort afterwards. "But how Max cut through the field later on was sensational. He made up seven seconds in three laps and arrived at a breakneck pace."
"I knew my pace was good on the intermediates. It was important to keep them alive in case more rain came in. And that went pretty well", Verstappen himself looked back at that moment in the race soberly.
Pérez, who eventually finished fourth after a time penalty, had the same explanation. But then as a reason why Verstappen was so much faster. "We were counting on more rain, so it was important not to kill the tyres. I would have really destroyed them if I had gone faster."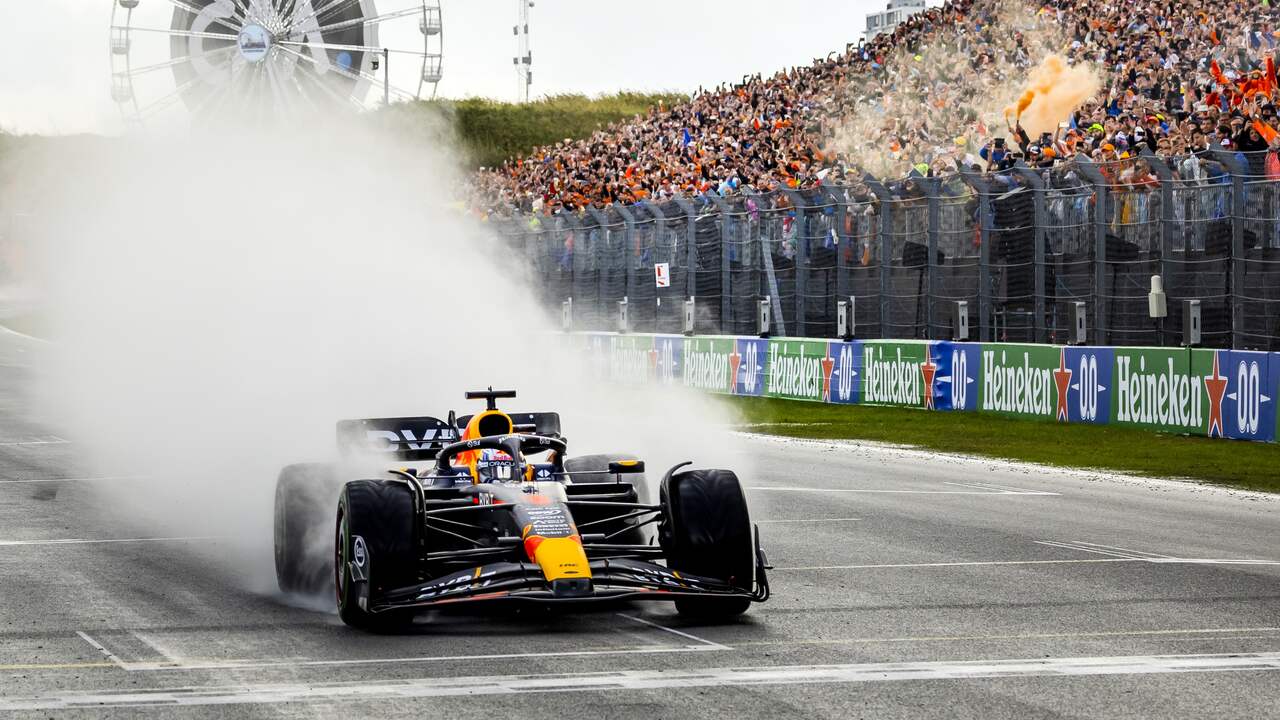 1:46 Play button
Horner explains why Verstappen was allowed to stop first
Verstappen therefore quickly approached his teammate, and was then able to stop earlier for soft tires. According to Horner, this was necessary because behind the leading duo drivers were already changing and showing fast times. "So we had to bring in Max to defend against that, hoping he wouldn't undercut 'Checo'." So that did happen. Verstappen took over the lead and never relinquished it.
It reinforced the prevailing image that Pérez is under pressure due to his performance, which pales in comparison to that of Verstappen. Horner defended his driver and did not think Pérez should have won the race with his large lead in the opening stages.
Max may have been two seconds a lap faster, but he was two seconds a lap faster than anyone else. "His confidence, his dedication right now. That's just amazing to see and be a part of."
"Pérez will also be our driver in 2024"
Horner does not want to know anything about doubts about Pérez's seat in 2024. "His situation for next year is clear: he will be a Red Bull Racing driver in 2024. We are happy with what he is doing," the team boss clarified.
"Checo didn't do too bad today either. He was unlucky with his speeding violation. He's still second. It's easy to beat him up when the absolute benchmark in this sport performs so well alongside him."
---
---