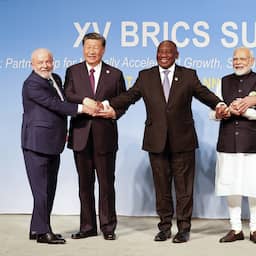 By our economics editors
24 Aug 2023 at 10:39
The country collective BRICS (Brazil, Russia, India, China and South Africa) wants to expand the cooperation. Argentina, Egypt, Ethiopia, Iran, Saudi Arabia and the United Arab Emirates will also be allowed to join in 2024.
South African President Cyril Ramaphosa, as host of the BRICS summit in Johannesburg, has announced that the six countries have been officially invited. The presidents of Ethiopia and the United Arab Emirates have already responded with enthusiasm.
Expansion had been hinted at for a long time, but the BRICS members were not yet agreed on how quickly that should happen and how many countries could join. As many as forty countries, mainly in the southern hemisphere, would be interested in joining the BRICS collective.
According to Chinese President Xi Jinping, the six aspiring members are all very influential and important. He has said that the expansion will be an impetus for cooperation.
"BRICS keeps the door open for further expansion," said Brazilian President Luiz Inácio Lula da Silva. According to him, the interest in becoming a member shows the relevance of the country collective.
President Lula wants joint BRICS currency
Members try to seek economic cooperation through BRICS. They mainly want to make mutual trade easier. On Wednesday, for example, Brazilian President Lula suggested introducing a common BRICS currency. At present, the US dollar is still leading in much international trade.
South African Ramaphosa said on Thursday that members' finance ministers and central banks will investigate this. Presidents of China, India and Russia have also expressed their commitment to working together on technology.
Wat is BRICS?
The BRICS countries were once a group of several large emerging economies.
But partly because China and India have an increasingly important economic influence, the bloc is also seen as a counterpart to the G7: Canada, Germany, France, Italy, Japan, the United Kingdom and the United States.
In recent years, the BRICS countries have often discussed possible expansion.
Image: EPA
Read more about:
Economy
---
---