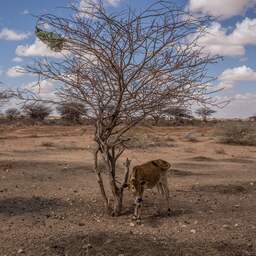 24 Aug 2023 at 00:02
Increasing water scarcity threatens the survival of humanity, warns Oxfam Novib in a new study. Diseases, hunger and migration flows are therefore given free reign. Countries least responsible are often the hardest hit.
According to Oxfam Novib, the scarcity is mainly caused by climate change. Inadequate investments in water systems, poor water management, pollution and extraction of groundwater exacerbate this. In recent decades, the situation in parts of Africa, the Middle East and Asia has deteriorated sharply.
For example, 20 percent of the wells that Oxfam Novib has constructed worldwide have recently become empty due to the persistent drought, or the water present has become undrinkable. As a result, we have to drill deeper and deeper to get to water.
The Water Dilemmas report also warns of the consequences of water scarcity. Lack of (clean) water causes crop failures and hunger, diseases and an increase in migration, among other things.
Famine among 32 million people
The authors outline situations in the Horn of Africa, where five seasons of drought caused famine among 32 million people. In conflict zones, that effect is only amplified. In March, more than 40,000 people died in Somalia alone as a result of the persistent drought.
Moreover, due to global warming, prolonged drought alternates with extreme weather and flooding. Diseases such as dengue, cholera and malaria are therefore spreading faster.
It leads to people and nations being expelled more quickly from their place of residence, where it becomes practically unlivable. According to calculations by the World Bank, 216 million people will be displaced within their own borders by 2050.
The burdens are not evenly distributed
Rich countries are the biggest driver of climate change due to their high emissions. Yet poor countries more often bear the burden, because they do not always have the resources to limit the consequences.
"Especially the countries and communities that contribute the least to pollution are the hardest hit," says Pepijn Gerrits, director of programs at Oxfam Novib. Water scarcity due to climate change, for example, exacerbates poverty, conflict and gender inequality. The effects weigh most heavily on the shoulders of women and girls.
The research shows that rich countries are less willing to contribute to water supplies in vulnerable countries. According to the United Nations, this required 4 billion dollars (about 3.7 billion euros). A third of that amount was collected in 2022.
Nevertheless, this course can still be changed, says Oxfam Novib. This requires worldwide investments in water supplies and a drastic reduction in harmful greenhouse gas emissions. Gerrits: "We have to act quickly."
---
---