Aug 23, 2023 at 8:37 PM Update: 4 hours ago
FC Twente coach Joseph Oosting is enjoying the European adventure with his team. The 51-year-old Emmenaar said this on Wednesday at the closing press conference for the duel with the Turkish Fenerbahçe in the preliminary round of the Conference League.
A week ago, FC Twente played against FC Riga in relatively quiet Latvia. But a duel in Turkey is a different story, Oosting noticed on Wednesday.
"Today you swing behind a police escort through the bustle of the hectic metropolis of Istanbul. That is part of the great adventure called European football, we are all just going to enjoy it," said Oosting at the press conference.
The team from Enschede are preparing for their fifth European game of the season. In the second preliminary round of the Conference League, FC Twente defeated the Swedish Hammarby IF, after which FC Riga was beaten in the third preliminary round. If Oosting's team also passes the diptych with Fenerbahçe well, FC Twente will qualify for a European main tournament for the first time since 2012.
Receive notifications of important developments around FC Twente Stay informed with notifications
Oosting realizes that FC Twente has hit a tough opponent in the Turkish top club. "Fenerbahçe has a very good team and good players, some of whom we of course know from last season in the Eredivisie. For us, this is a nice test of strength to see where we stand against an opponent like this."
The game at the Sükrü Saraçoglu Stadium in Istanbul starts on Thursday at 7 p.m.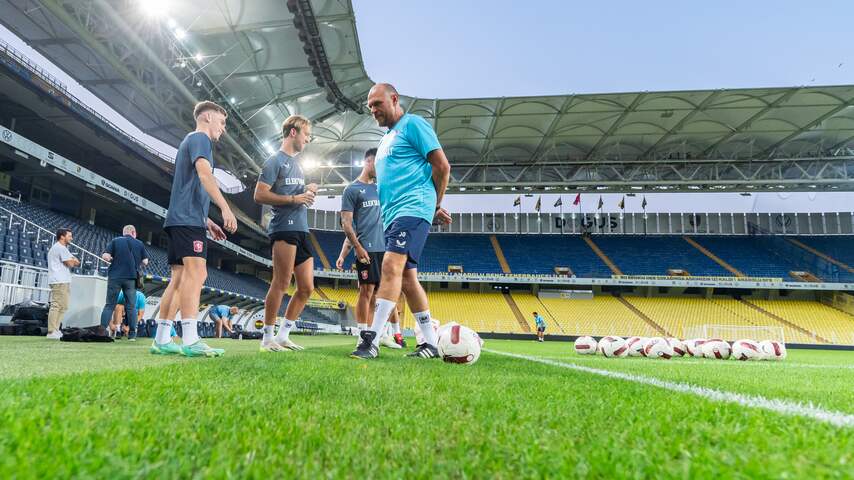 FC Twente trained in the Fenerbahçe stadium on Wednesday. Photo: Pro Shots
AZ without Clasie against SK Brann
AZ also faces one of two crucial matches in the preliminary round of the Conference League, against the Norwegian SK Brann on Thursday. The Alkmaarders cannot have Jordy Clasie in the first leg in their own AFAS Stadium, coach Pascal Jansen said at the press conference.
"But I can choose amply from the selection that is now available. These are the same names as last Sunday (when AZ won 3-1 at RKC, ed.)", Jansen said.
AZ reached the last preliminary round of the Conference League by settling the Andorran Santa Coloma over two matches without much difficulty. Jansen thinks that AZ will not have an easy time against Brann.
"Brann is a team that strives for high intensity. That was special to see from the Norwegian league, but also in European competitions. They really meet that. They are fanatical about putting pressure when they don't have the ball. gets interesting."
The kick-off of the game between AZ and Brann is on Thursday at 8.45 pm.
---
---