Aug 21, 2023 at 2:22 PM Update: 28 minutes ago
A British nurse was sentenced to life in prison on Monday. She has been convicted of the murder of seven newborn babies and the attempted murder of six other babies. She was not present in court.
Lucy Letby, 33, killed five boys and two girls at Countess of Chester Hospital in Chester in 2015 and 2016.
Letby murdered the babies by, for example, injecting them with air, forcing them to drink milk or poisoning them with insulin. She usually did that during her night shifts.
She has also been charged with the attempted murder of 10 other babies between June 2015 and June 2016 at Countess of Chester Hospital. She has now been convicted of six attempted murders.
According to the prosecutor, Letby tried to cover up her crimes by killing or injuring the children in different ways.
Police found a note with a confession
Letby was arrested in 2018. After her arrest, officers found a handwritten note at her home. It read: "I killed them on purpose because I'm not good enough to take care of them. I'm a terribly bad person."
The nurse denied all allegations at trial. She pointed to poor hygiene and staffing problems at the hospital.
Call to require defendants to attend sentencing
Letby was not present in court nor followed the case via video link from prison.
This means that she did not hear the victim statements. The relatives and other victims told the court how the crime affected them and those around them. She also missed the judge's explanation of her sentence.
"I will make the comments as if she were present," the judge said. "And I will make sure she receives a copy of that and of the victim impact statements."
Partly because of this case, the call to force suspects to attend the verdict in their trial is getting louder. Earlier this year, according to BBC News, the British government was already determined to introduce a law for this. British Prime Minister Rishi Sunak confirmed on Monday that the government intends to amend the law in this regard.
18 Aug 2023 at 15:38
British nurse found guilty of murdering 7 newborn babies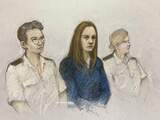 Beeld: Getty Images
Read more about:
United Kingdom Abroad
---
---