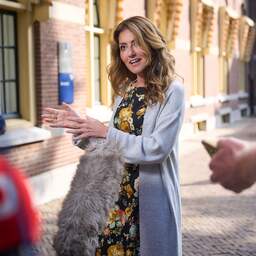 18 Aug 2023 at 17:12
VVD party leader Dilan Yesilgöz leaves the door open for cooperation with the PVV. The politician responds to questions from the press that she does not exclude Geert Wilders' party in advance. In previous years, the VVD did.
Yesilgöz awaits the election program of the PVV and then it is up to the voters first. "I have to see what Mr. Wilders comes up with now," she says.
Yesilgöz emphasized on Friday that Wilders spoke of a new start just after the fall of the cabinet. Now it remains to be seen whether he will indeed adopt a constructive attitude or exclude himself, she says. The VVD party leader mainly wants to judge party leaders on their plans for the coming term of office. She finds the conversation about exclusion mainly "The Hague hassle".
Earlier, caretaker Prime Minister Mark Rutte set a strict condition for cooperation with the PVV. Wilders had to take back his controversial statement about "fewer Moroccans" from 2014. The PVV leader was convicted for this, but still refuses to take back his words.
Rutte now supports Yesilgöz. "I support her line," he said at a press conference. He does not further explain his changed opinion about a collaboration with Wilders. "Time moves on, there are new elections. I think her line is sensible, but I won't go into it."
In the first cabinet that Rutte led, the party worked together with the CDA and received tolerance support from the PVV. This cabinet fell in April 2012 when Wilders withdrew his support after a year and a half.
Image: ANP
Read more about:
VVDPolitics
---
---