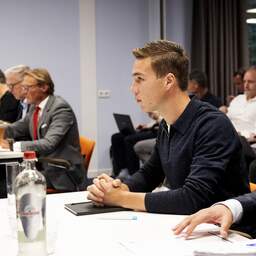 Aug 17, 2023 at 11:42 PM Update: 38 minutes ago
The arbitration committee will rule within a week in the case between Carel Eiting and his club FC Volendam. Both parties met in Zeist on Thursday for the case filed by the midfielder.
The 25-year-old Eiting would like to transfer to FC Twente, but he disagrees with the Volendam club management about the financial conditions for a transfer. The Eredivisie club lifted an option in the contract of the former Ajax player last month, which means that he is stuck in Volendam until the summer of 2025.
That happened shortly after FC Twente had reported for Eiting. The creative midfielder would like to move to Enschede and relies on an agreement on a departure clause, which would allow him to leave for 400,000 euros. However, FC Volendam wants to see more money, reportedly 2.5 million euros.
Eiting reported sick at the end of last week and was therefore absent on Friday in FC Volendam's first league match, at home against Vitesse (1-2). He has not trained since then.
During the handling of the case, both parties said they felt "cheated and cheated" by the other. According to a spokesperson for the KNVB, the arbitration committee will issue a ruling within a week.
Eiting was of great value to Volendam last season. He gave ten assists in the Eredivisie and scored three times himself. Volendam will take on Go Ahead Eagles on Saturday. After that, a home match against FC Twente is scheduled for Volendam (September 3).
Image: ANP
Read more about:
FC VolendamFootball
---
---