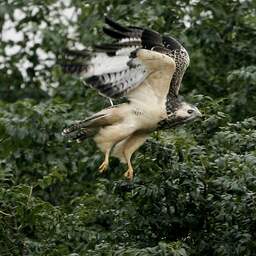 Residents of Flevoland are no longer bothered by an aggressive buzzard that attacked passers-by for years. The animal was killed sometime in the past few days, Omroep Flevoland reports Thursday.
The buzzard had a nest along the Rietweg in Dronten. Pedestrians, cyclists and motorists passing by were often attacked by the bird. Warning signs were even put up.
Bird watcher Lykele Zwanenburg found the dead bird while driving around the province. It was the same buzzard that had been defending its nest for several years during the breeding season.
According to Zwanenburg, the bird has aged remarkably. At seventeen, it lived much longer than the average buzzard. They are only four years old.
According to Zwanenburg, the buzzard was almost certainly hit by a car. "He was probably hit by a car after he tried to attack it. But he had to pay for it with his death."
Buzzards are the most common birds of prey in the Netherlands. They mainly eat smaller animals. If their nest is threatened, they can also attack creatures much larger than them, such as humans.
---
---