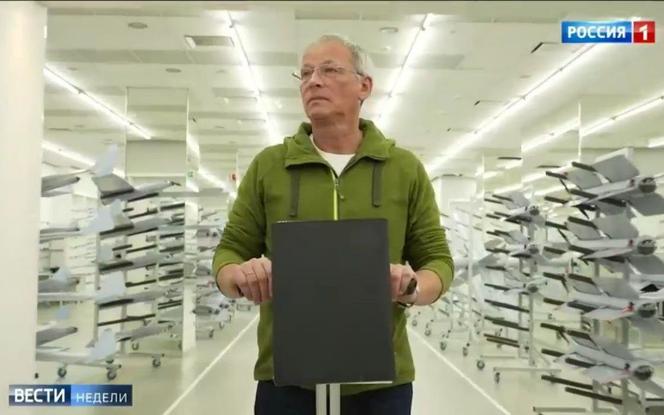 Portrait of Alexander Zakharov in the Lancet suicide drone production workshops broadcast on July 16, 2023 on the X account of military expert Samuel Bendett. X/@SAMBENDETT
The story, released in the middle of summer, is surprising to those looking for a minimum of coherence in the ordering of the world. All wars have their aberrations, but "the level of cynicism in this one is beyond comprehension," Kyiv Independent journalist Iryna Matviyishyn tweeted about it. The statement of the case is in two sentences. The father, the engineer Alexander Zakharov, sometimes nicknamed "the new Kalashnikov", develops and produces in Moscow kamikaze drones called "Lancet", particularly deadly in Ukraine. The son, Lavrentii Zakharov, has been active since May in a UN office in Geneva, in order to "prevent and limit the impact of the uncontrolled proliferation and use of conventional arms and ammunition".
Read also: Article reserved for our subscribers Between Russia and Ukraine, a drone war of unprecedented scale
Published at the end of July by the independent Russian media iStories, the information was confirmed on August 6 at the Tribune de Genève by the United Nations Institute for Disarmament Research (Unidir), whose mission is to establish "a stable and more secure world, in which States and populations are protected from the threat of arms". Lavrentii Zakharov is on internship for six months, renewable once. According to UNIDIR, "he was selected, like all interns, through a competitive and transparent recruitment process on the basis of his qualifications, skills and experience for this position".
The intern has thus already passed since 2021 through United Nations agencies located in New York and Rome. According to the institute's website, his research interests focus on "strengthening arms and ammunition management, as well as mine clearance and humanitarian access." His filiation, and the extreme sensitivity of it, was it even mentioned during the hiring or was it the subject of particular attention? Unidir, implicated, does not answer the question.
Speed ​​of 300 km/h
Rather precise, the Lancet drone occupies a prominent place in the Russian war machine in Ukraine, and Moscow recently announced that it wanted to triple its production. It is a "prowling ammunition" designed by the company Zala Aero which, in addition to its leader Alexander Zakharov, also employs several other members of the family, but not the Geneva trainee.
The latest version of this killer drone weighs only 12 kilos for a range of over 40 kilometers, far behind the front line. It is more and more often used by the Russian forces, which complicates the Ukrainian counter-offensive.
You have 42.89% of this article left to read. The following is for subscribers only.
---
---