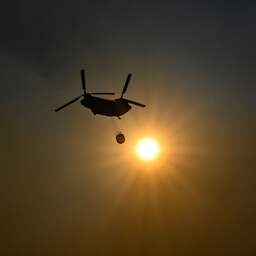 ---
08 Aug 2023 at 09:42
July 2023 will go down as the hottest month ever recorded. Last month was an average of 0.33 degrees warmer than July 2019, the previous record month.
The average temperature last month was 0.72 degrees higher than the average temperature in July between 1991 and 2020, reports the European climate service Copernicus. July 2023 breaks the global record for hottest month.
That record was made visible by heat waves, droughts and wildfires that ravaged different parts of the earth. It was and is unprecedentedly hot in several European countries. Southern Europe had to deal with temperatures above 45 degrees.
Get notified of new posts Stay up to date with notifications
In large parts of Spain, Italy and Greece, code red or orange was applied in mid-July. In several regions, heat records were broken and the mercury rose above 40 degrees.
Southern Europe also experienced severe forest fires. On Rhodes, the fire reached holiday resorts where Dutch tourists also stayed. They had to be evacuated.
2023 could be hottest year on record
It was also extremely hot elsewhere in the world. In the American city of Phoenix, the temperature rose every day for thirty days above 43 degrees. In US Death Valley, known as the hottest place on earth, the mercury approached the global record temperature of 56.7 degrees.
"But also in South America and Antarctica temperatures were measured that were well above average," says Copernicus.
2023 is currently in third place of the hottest years ever measured. Only 2016 and 2020 were hotter. But it is expected to top the list this year.
As a result of the natural phenomenon El Niño, which leads to a warming of the Pacific Ocean, higher temperatures are expected in the coming months than in the second half of 2016 and 2020.
Earlier this year, June was also the hottest June ever measured. It was then about 0.5 degrees warmer than the average temperature for that month between 1991 and 2020.
---
---