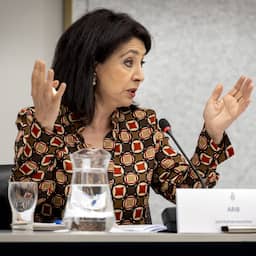 Since her departure from the House of Representatives, former parliamentary speaker Khadija Arib still does not know exactly why she had to leave. She said that on Sunday evening in the Zomergasten program.
Arib resigned in October because she was accused of misconduct. In two anonymous letters it emerged that there may have been "a very unsafe working atmosphere". In doing so, Arib would have abused its dominant position.
Those allegations have never been clarified, according to Arib. She stated that she was "thrown in front of the train". The investigation has not yet been completed. Arib therefore does not yet have a clear picture of the allegations.
When asked by presenter Theo Maassen about her behavior, Arib did not want to say much. "But I've never slammed doors or yelled at anyone."
Arib is a member of the PvdA and was a member of the House of Representatives for 24 years. She was chairman from 2016 to 2021, after which she left without saying goodbye in October.
---
---