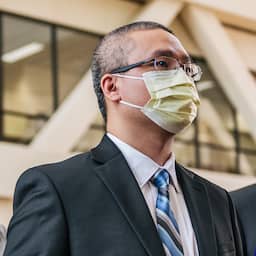 Former American agent Tou Thao has been sentenced to four years and nine months in prison for complicity in the death of George Floyd. Thao held off bystanders as his colleagues pinned Floyd to the ground.
The judge was disappointed that the former police officer did not show more remorse, American media report.
Thao was already sentenced to 3.5 years in prison in July 2022 for violating Floyd's civil rights. He also did not provide medical assistance to the victim.
Thao's colleagues who were also involved in the arrest have already been convicted. The highest sentence went to former police officer Derek Chauvin. He pushed Floyd to the ground with his knee for more than nine minutes, while he was already handcuffed. Chauvin was sentenced to 22.5 years in prison in June 2021.
In May 2020, Floyd died during this heavy-handed arrest in the US city of Minneapolis. Floyd was suspected of using a counterfeit $20 bill to purchase cigarettes.
Floyd's murder was caught on video by a bystander and went viral. That sparked protests against racism and police brutality in the US and around the world.
---
---