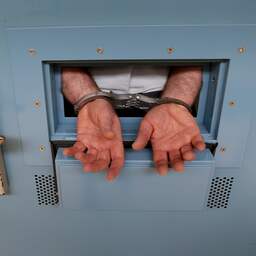 The prisoner who took off during a toilet break on Wednesday and has since been arrested again will not receive an extra punishment for this. Escaping from a prison or closed institution is not punishable. That's how it is.
An escape attempt is not punishable, because jurists believe that man's natural urge for freedom cannot be suppressed. "Everyone strives for the right to freedom," criminal lawyer Desiree de Jonge of Cleerdin & Hamer Advocaten previously told NU.nl. According to De Jonge, it is unreasonable to criminalize escape.
The criminal lawyer makes a comparison with the right to remain silent that suspects have. "It is also not obligatory to, by talking, contribute to your own punishment." If you don't take advantage of an opportunity to escape, you're actually contributing to your own punishment.
Making escape a criminal offense probably does not lead to fewer escape attempts either. In 2019, the government had the possibility of criminalizing escape investigated by the University of Amsterdam.
The researchers argue that punishment has no clear added value. Moreover, according to them, the number of escapes is limited. Between 2010 and 2015, there were about ten attempts per year, of which almost three quarters still ended up within prison walls. There are no more recent data.
Providing assistance in an escape attempt is punishable by law. De Jonge gives one of her clients as an example. The man was suspected of aiding a failed escape attempt with a helicopter from the prison in Roermond in 2017.
In the attempt, the police shot and killed one of the suspects. De Jonge's client was sentenced to years in prison.
Criminal offenses that you commit during an escape also result in a punishment. In practice, it almost never happens that you walk out unhindered. During an escape you almost always do something that is not allowed.
"A prison is of course built to make escape as difficult as possible," explains De Jonge. "If you force a door or take a guard hostage to escape, you are guilty of a criminal offense. You will be punished there. for." Cutting an ankle bracelet is also an offence.
It is not clear whether a criminal offense was committed in Wednesday's escape attempt.
Get notified of new posts Stay up to date with notifications
Your sentence will not be extended, but may be increased after an escape attempt. A prisoner who tried to escape from a prison in Veenhuizen in 2019 had to spend two weeks of his remaining sentence in solitary confinement. He also lost the chance to be released early by his escape attempt.
You also run the risk of being transferred to the Extra Secure Institution (ebi) in Vught. Leaves and other privileges are then revoked.
This article first appeared on NU.nl a year ago, when a TBS prisoner escaped. Because the message is relevant again, it has been updated and republished.
---
---