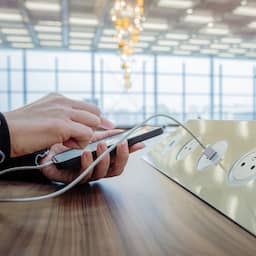 A telephone gets warmer when it is connected to the charging cable, because electricity flows into it. The battery is then put to work. But how hot it gets, also depends on the cable. Should you worry about that?
It is therefore normal that a smartphone gets warmer during charging. But the degree of heat does have an impact on the battery.
At higher temperatures, the battery ages faster. In addition, a phone becomes slightly slower when the processor warms up, because it can process less information.
Organizations warned Tuesday morning in conversation with NU.nl about other possible dangers during charging. In recent years, not only has the number of smartphones, laptops and e-bikes in the home increased, but also the number of house fires. A possible connection is still being investigated.
A higher temperature can do no harm within certain limits, says Henk Jan Bergveld, part-time professor at the Eindhoven University of Technology in the Department of Electrical Engineering. "But if the phone gets really hot, it will probably become unusable and will not continue to charge," he says to NU.nl. "Phones have built-in protection against that. You then have to wait until the device has cooled down again."
Official cable recommended
It is often recommended to use official cables from the manufacturer that made your phone. The advantage of this is that parts in both the cable and the telephone connect to each other. As a result, they can charge efficiently and phones do not heat up as much.
"Heat is caused by efficiency differences," says Willem van Driel, professor of Electrical Engineering, Mathematics and Computer Science at TU Delft. "Cheaper cables often have cheaper components and they offer lower efficiency. As a result, they generate more heat."
A cheaper cable usually also uses less copper, says Bergveld. "As a result, it has more resistance and gets hotter than a more expensive cable that has more copper and lower resistance."
Cheap is okay, but with a quality mark
Yet nowadays it doesn't really matter which cable you use to charge a phone. "In practice, that's not a big problem," says Bergveld. Van Driel agrees. A cheaper cable is therefore a solution if you do not want to buy an official cable from the manufacturer.
However, a cheap cable is less durable. "They often have a cheap plastic casing that tears more easily," says Van Driel. "So they often break down a little earlier."
He also recommends always buying a cable with a CE mark. This ensures that the product meets all European requirements in terms of safety and environmental protection, according to the manufacturer. "So don't have them sent from China via Alibaba," says Van Driel. "Those chargers could be unsafe."
---
---