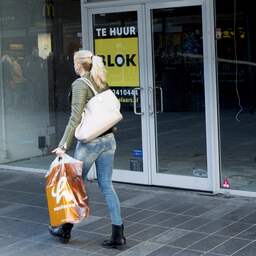 ---
31 July 2023 at 05:00
Various signals for the economy have recently turned red. The number of bankruptcies is rising, companies hardly dare to borrow and they make less and less. Do we have to worry?
The Dutch economy contracted in the first quarter of this year. When something like this happens two quarters in a row, we call it a recession. Whether this is really the case, we will not know until mid-August, when Statistics Netherlands publishes figures.
Some omens do not bode well. For example, the number of bankruptcies is greater than it has been in three years. The industry has also been making less than last year for some time now.
In addition, it became clear that companies are borrowing less than they have done in the past twenty years. Companies often use loans to grow.
Economy is overheating
"We do indeed see that the economy is cooling down somewhat," says Rabobank economist Ester Barendregt. "The Dutch economy has been running very well since we came out of the lockdown. You could even speak of overheating. Look at the shortages on the labor market."
"It now seems that the momentum is starting to turn," Barendregt continues. "The economy contracted slightly in the first quarter." Still, the economist doubts whether a recession is really imminent. Rather, she calls it a "rebalancing."
"During the pandemic we had to sit inside and we bought a lot on the internet. But now the lockdowns are over and you see that we want to experience things again. We now spend relatively more money on that."
Economist Albert Jan Swart of ABN AMRO also sees this. "The travel industry, for example, is doing very well. That also applies to cinemas. At the same time, we order fewer products online, which means that factories also have to make less."
Fewer orders for construction companies
Another factor is that the higher mortgage interest rate and the nitrogen problems mean that housing construction is declining, meaning that fewer building materials are needed. "And you see that chemical companies in the Netherlands are having a hard time due to the high energy prices," says Swart.
Although some sectors are experiencing a contraction, ABN is not afraid of a recession either. The bank still assumes growth this year, although it will probably be somewhat lower than previously thought.
ABN calls the economy resilient, partly because many companies and households have a nest egg and the government continues to spend money. The bank therefore has no fear of a contraction.
---
---