---
Jul 30, 2023 at 11:01Update: 12 minutes ago
Norway has qualified for the eighth finals of the World Cup in Australia and New Zealand after a false start on Sunday. The 1995 world champion lashed out against the Philippines (6-0), which, like host New Zealand, has been eliminated.
The offensively impotent New Zealand got stuck against Switzerland on a goalless draw in Dunedin. Never before has a (co-)organizer of a Women's World Cup been eliminated directly in the group stage. This happened to South Africa (2010) and Qatar (2022) among the men.
Prior to the last round in group A, nothing had been decided yet: all teams could still continue, but all teams also threatened elimination. The eyes were mainly on Norway, which had started the tournament dramatically with a 1-0 loss against co-organizer New Zealand and a goalless draw against Switzerland.
For Norway – the number twelve in the FIFA ranking – it was important in Auckland to win by a large margin. The formation of national coach Hege Riise, who had to do without the injured star player Ada Hegerberg, already created a gap in the first half thanks to two hits from Sophie Román Haug and a hit from Caroline Hansen.
After the restart, the team from Scandinavia went further ahead through an own goal from Alicia Barker and a penalty kick from Guro Reiten. The Philippines were no shadow of the team that performed so well in the previous games. The underdog ended the game with a red card from Sofia Harrison and another goal against, Haug's third.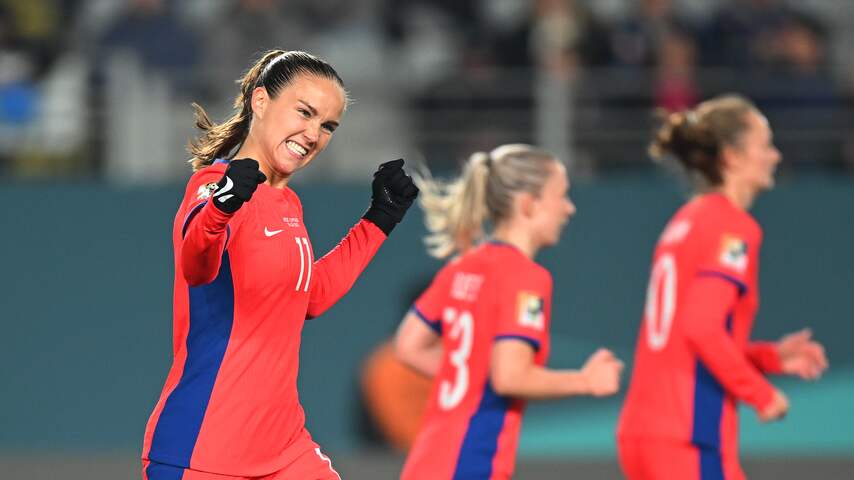 Norway's Guro Reiten cheers after using her penalty kick against the Philippines. Photo: Getty Images
New Zealand is offensively short
Due to the large Norwegian margin built up early, the ball on the other field was emphatically with New Zealand, which was virtually third on goal difference.
The host country put Switzerland under firm pressure for a long time, but the predominance did not pose much of a goal threat. In the final phase, however, a New Zealand all-or-nothing offensive got off the ground. Keeper Victoria Esson, who had come forward, headed wide from a free kick.
In the eighth finals, the Alpine country will meet the number two in group C. Norway will meet the winner of that group, where Spain and Japan will decide who will be first and second in a direct duel on Monday.
Final standings group A:
1. Switzerland* 3-5 (2-0) 2. Norway* 3-4 (6-1) 3. New Zealand 3-4 (1-1) 4. Philippines 3-3 (1-8)
---
---