---
Jul 28, 2023 at 11:58 PMUpdate: 6 minutes ago
The burning freighter Fremantle Highway off the coast of Terschelling will probably be towed this weekend. The ship will then be brought to a temporary anchorage above Schiermonnikoog, Rijkswaterstaat reports.
When to start towing the freighter depends on the smoke development and the weather. But Rijkswaterstaat expects it to succeed this weekend. In total, the towing operation is expected to take between twelve and fourteen hours.
The ship is currently moored about 23 kilometers north of Terschelling. When the vessel is at the intended anchorage, about 16 kilometers north of Schiermonnikoog, the situation is reviewed. According to Rijkswaterstaat, the intention is that the ship will be moved to a port at some point. But it is not yet clear which port that will be.
On Friday, salvagers were able to board the ship for the first time in three days. The fire is still raging, but is now decreasing. The smoke also decreases. Due to the sharp drop in temperature on the ship, four salvors were able to board safely, the coastguard reports.
Ship is stable and underwater intact
According to Rijkswaterstaat, the ship is stable and intact below the waterline. It also doesn't tip over. Initially, there were fears of a huge environmental disaster in the North Sea and Wadden Sea if the ship sank.
Preparations for towing to the temporary residence location have already started. Rijkswaterstaat calls the location north of Schiermonnikoog "a better starting position that fits the various scenarios and the expected weather conditions".
The Coast Guard will provide shipping assistance. Rijkswaterstaat reports that no direct consequences are expected for the inhabitants and nature of the Wadden Islands.
Get notified of new messagesStay informed with notifications
Dead and 22 injured
The fire broke out on Tuesday evening when the ship sailed above Ameland. The 23 crew members first tried to extinguish the fire themselves, but had to be rescued when they failed. Several boats and helicopters were used for the rescue.
One person was killed, the other 22 crew members were injured. Sixteen of them were taken to Groningen Airport Eelde in two helicopters. None of them was in danger. They did suffer breathing problems, broken bones and burns.
The other six wounded and the deceased came ashore in Lauwersoog. The six are seriously injured, partly because they have suffered burns.
There were 3,783 cars on board the ship, of which 498 were electric cars. This complicates the extinguishing process: the cars are built in such a way that water has difficulty reaching the car's battery. In addition, the battery can catch fire again.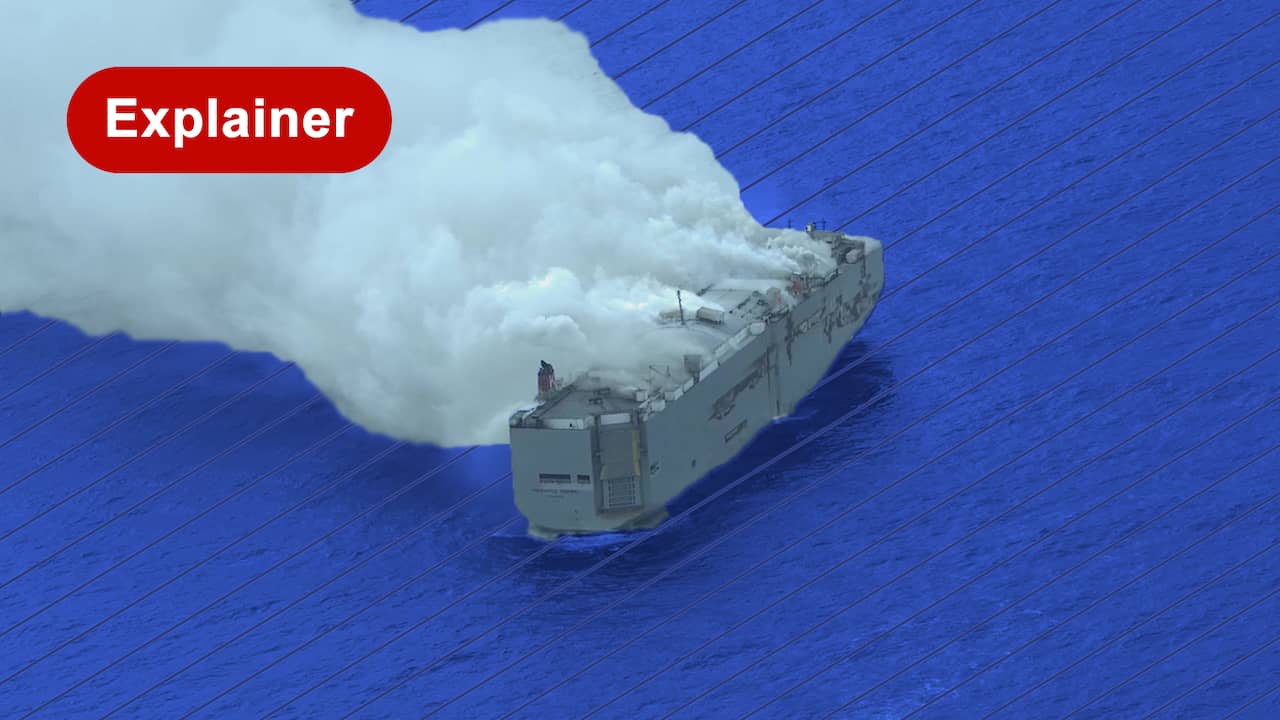 1:03 Play button
---
---