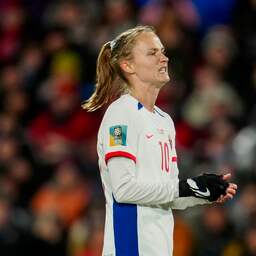 ---
Jul 25, 2023 at 6:57 PMUpdate: 3 hours ago
Norwegian Caroline Graham Hansen is angry after losing her starting place in national coach Hege Riise's World Cup line-up. The 28-year-old star player had to settle for a substitute in the 57th minute in the World Cup match with Switzerland (0-0).
The Norwegian team is one of the favorites for the final victory at the World Cup in Australia and New Zealand, but has not yet scored. After the lost group match against New Zealand (1-0), national coach Riise changed course.
The 100-time international Graham Hansen fell victim to the bill and ended up on the bench. FC Barcelona midfielder Ingrid Engen also surrendered her starting place. When Graham Hansen came on after 57 minutes, she proved her usefulness. She brought speed to the team and created dangerous moments.
After the whistle, the 28-year-old striker could not contain her frustration about the forced reserve role. "It's very difficult," the Barça striker said in a TV interview. "I don't know what to say. I feel like my hands are tied. Nothing comes easy in life, but I thought I deserved a certain amount of respect."
National coach Riise does not regret her choice
"I feel like I've been cheated for a year," continued Graham Hansen. "Everyone is constantly saying that we have to work together as a team, but I feel like I've been the victim of a harsh approach."
National coach Riise did not regret her choice after the match. "Caroline has the right to be frustrated and express her opinion. All players want to play. But I have always said that the team is the most important thing and I defend my choice," said the former Norway international.
Due to the two difficult matches, Norway faces a tough, but not impossible job to qualify for the eighth finals. The Norwegians must beat the Philippines on Sunday and hope that the Swiss team does its sporting duty.
---
---