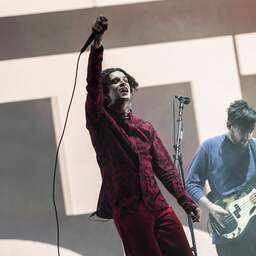 British band The 1975 no longer performs in Indonesia and Taiwan after singer Matty Healy kissed his bassist on stage in Malaysia. The group would be seen at festivals in Jakarta and Taipei next week.
The organizers of the festivals have reported that The 1975 is no longer on the program, writes the website NME. "Given the current circumstances, we can no longer let the band perform," reports the Indonesian music festival We The Fest.
The cancellation of both concerts follows a performance by The 1975 in Kuala Lumpur. Frontman Healy kissed bassist Ross MacDonald in protest against the strict anti-LGBTQ+ laws in Malaysia. "What the hell is the point of inviting The 1975 to a country where people are going to tell us who we can and can't have sex with?" Healy said.
The performance was immediately stopped because of the kiss and the Malaysian government banned the rest of the festival. The 1975 itself may never perform in Malaysia again.
Malaysia considers homosexual acts a crime. The maximum prison sentence for this is twenty years. Human rights groups have warned in recent years that intolerance against the LGBTIQ+ community is on the rise in the country.
---
---