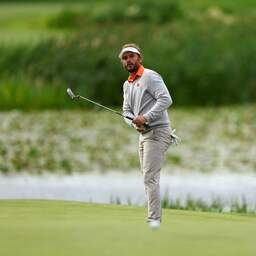 Joost Luiten closed the prestigious British Open golf tournament in Liverpool on Sunday in a minor. The Dutchman needed no less than eighty strokes for the last round of the British major.
Luiten finished in a tie for 71st place, beating only three competitors. After two laps he was still number 30 in the general classification. On Saturday he had already dropped to 41st place.
The battle for the overall victory in Liverpool will be decided on Sunday evening. The American Brian Harman defends a five stroke lead over his compatriot Cameron Young in the last round.
Luiten recently missed a tournament victory twice. He let the victory slip from his hands at both the British Masters in Sutton Coldfield and the BMW International Open in Munich. His last victory dates from 2018, when he won the Oman Open.
The 37-year-old Bleiswijker is one of the best performing golfers in Europe this year with four podium places. He hopes to play in two months' time at the Ryder Cup, the battle between the twelve best European players and the twelve best Americans.
---
---