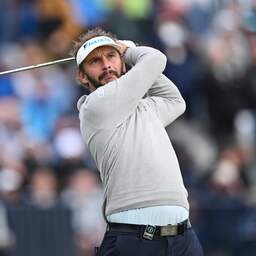 Joost Luiten qualified for the final weekend of the prestigious British Open golf tournament on Friday. The Dutchman scored 72 strokes in the second round, which is one stroke above the job average.
The 72 strokes were enough to make the so-called cut. In the first round, Luiten had done a little better with 71 strokes. The 37-year-old Luiten, while a part of the players are still on the track, is joint thirtieth.
Luiten is one of the best performing golfers in Europe this year with four podium places. De Bleiswijker hopes to take action at the Ryder Cup in more than two months. He is playing at the British major for the ninth time, where he achieved his best performance in 2019 with a 32nd place.
The 151st edition of The Open was disrupted on Friday by climate activists from the British group Just Stop Oil. The activists, who were previously present at the snooker and Wimbledon World Cup, again left an orange cloud of smoke.
The activists appeared just next to the green, after which they scattered the orange powder on hole 17. The police quickly intervened, so that the golf tournament was not delayed.
---
---