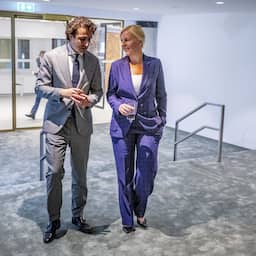 ---
Jul 17, 2023 at 05:15 Update: 4 minutes ago
Today it will become clear whether the left-wing cooperation GroenLinks and PvdA will take further shape. The parties want to participate in the parliamentary elections with one list, one program and one leader. Members were able to express their views on this last week.
Party leaders Jesse Klaver (GroenLinks) and Attje Kuiken (PvdA) announced immediately after the fall of the cabinet that they would continue to work together.
Members are expected to support this plan today. At recent party congresses, motions calling for a membership consultation on one list have already received a majority.
If the hurdle is taken today, the parties still have a lot to arrange. For example, there will be one party leader and a joint election programme. More about that will be announced later in the week.
Various names are mentioned, such as those of European Commissioner Frans Timmermans (PvdA) and Rotterdam mayor Ahmed Aboutaleb (PvdA). Both did not want to respond to speculation about a departure to The Hague last week.
Klaver and Kuiken have also not yet revealed anything about the role they see for themselves.
Close cooperation for a long time
The two left-wing parties have been working together for some time. After the 2021 parliamentary elections, Klaver and then PvdA leader Lilianne Ploumen signed a pact. The two held each other through the record-long formation. In parliament, the political groups worked together more and more closely.
This already resulted in a joint group in the Senate this year. Various party prominents, such as PvdA members Diederik Samsom, Job Cohen and Wouter Bos and GroenLinks leaders Bram van Ojik and Jolande Sap, supported this move.
Cohen, Samsom and Van Ojik now also have dual memberships. Klaver announced in an opinion piece in de Volkskrant on Friday that he has also become a member of the PvdA.
---
---