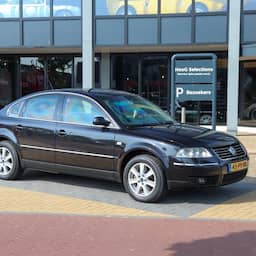 Two cars of the criminals Willem Holleeder and Dino S. have been auctioned online for almost 30,000 euros. The money goes to the Youth Who Can Foundation. "I wanted to turn something negative into something positive," says car dealer Darcy Hoogenhout.
The car dealer came across the cars in Latvia when he was looking for special Porsches. After some research, it turned out to be the former cars of Willem Holleeder and Dino S. The two known criminals are serving life sentences.
The 2003 Volkswagen Passat W8 Protection "Security" – which once belonged to Willem Holleeder – raised 18,000 euros. The former car of Dino S., a BMW 540i Protection from 1999, yielded 11,000 euros.
According to Hoogenhout, the auction costs paid by the buyer also go to charity: the Youth Who Can Do It foundation. The foundation wants to organize activities for vulnerable young people from Amsterdam-Zuidoost and in this way offer them a chance "for a meaningful existence in society", the website states.
Hoogenhout thinks it's great that the proceeds from these 'criminal' cars are used for a good cause. He wants to visit the foundation as soon as possible with a large check to hand over the money.
It is not known who bought the cars.
---
---