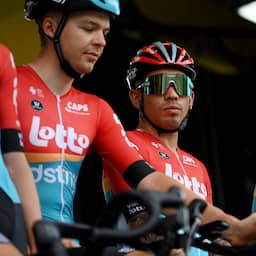 Caleb Ewan's agent has reacted with anger to the harsh statements of Lotto Dstny team boss Stéphane Heulot. The Frenchman accused Ewan of a disrespectful attitude towards his teammates and a weak mentality after he left the Tour de France on Friday.
"Disgusting to speak of a cyclist who has given his team so much in recent years," agent Jacob Bakker told Cycling Weekly. "I've spoken to Caleb twice and he's pretty devastated. It's very disappointing."
Bakker now demands an apology from Lotto Dstny. "At the team they talk about Caleb's 'mindset', but it is very dangerous to question someone's mental health in such a way. The team management owes Caleb an apology."
Ewan acted as leader of Lotto this Tour, but mostly disappointed. The Australian rode to a second and third place early in the Tour, but then played no significant role in the bunch sprints. After several tough days at the back of the peloton, he left the Tour on Friday, to the chagrin of Heulot.
"A rider with his status, who has received all the support, does not give up. And if you do, then cycling is not a sport for you", Heulot was very hard. "A rider has duties and not just rights. We can expect a little more dedication from him."
Ewan, 29, has won five stages in the Tour de France in the past. His last victory in the French cycling round was in 2020.
---
---