Sepp Kuss has already helped his leader to the overall victory five times and he is also indispensable for Jonas Vingegaard in this Tour de France. Jumbo-Visma's foreman will never win a grand tour himself. "Sepp knows what he can't do."
In cycling data, altitude training and sophisticated competition programs, it is increasingly rare to ride the Tour of Italy and the Tour de France in one year. Only nineteen riders dare to do the double this season, out of a total of 176 men in the Tour peloton.
One of those nineteen is Kuss. "Primoz Roglic insisted on having him in the Giro," says sports director Merijn Zeeman of Jumbo-Visma. "And the same applies to Jonas and the Tour. That shows how incredibly well Sepp is doing. And how extremely appreciated he is in our team."
Receive notifications of important developments around the Tour de FranceStay informed with notifications
It is easy to explain why the classification riders of the Dutch team swear by their 28-year-old teammate. Kuss has completed nine grand tours since his switch to Jumbo-Visma in 2018. Eight times his leader stood on the final podium, five of which on the highest step (see box).
That is no coincidence, says Arthur van Dongen. "Sepp is the best climber in the world," says the Jumbo-Visma team leader in conversation with NU.nl. "He is one of the best five or ten climbers in the peloton, is very loyal and a very nice guy. And we know that we can always count on him in the mountains."
Sepp Kuss in Grand Tours

Vuelta 2018: Leader Steven Kruiswijk 4th
Giro 2019: Kopman Primoz Roglic 3e
Vuelta 2019: Leader Primoz Roglic 1st
Tour 2020: Leader Primoz Roglic 2nd
Vuelta 2020: Leader Primoz Roglic 1st
Tour 2021: Leader Jonas Vingegaard 2nd
Vuelta 2021: Leader Primoz Roglic 1st
Tour 2022: Leader Jonas Vingegaard 1st
Giro 2023: Leader Primoz Roglic 1st
Can Sepp Kuss demolish this Tour Tadej Pogacar?
A few kilometers before the top of the Col de Marie Blanque, Kuss looks back for a moment. The American made a searing acceleration on the last climb of the fifth Tour stage and now there are only two riders in his wheel: his leader Vingegaard and his great challenger Tadej Pogacar.
The two-time Tour winner from Slovenia is at his limit due to Kuss's head work. This becomes apparent when Vingegaard attacks a little later and Pogacar immediately drives at a great distance. "Sepp always has a few days in a grand tour when he rises above himself and really plays a decisive role," says Zeeman. "The stage over the Marie Blanque was such a day."
Jumbo-Visma wants to use its strong team again this Tour to demolish Pogacar as often as possible. The sympathetic Kuss plays a key role in that executioner work. "Sepp is always friendly and relaxed," says Van Dongen. "But uphill he can be a killer." Laughing: "He's a social killer, let's put it that way."
Daan de Ridder is a cycling reporter
Daan reports the Tour de France for NU.nl for the seventh time. Read more stories from Dan here.
It is unlikely that Kuss will ever describe himself as a killer. The climber from Durango – a place in the state of Colorado at an altitude of almost 2,000 meters – always responds modestly to all praise for his achievements.
"It's always nice when you're appreciated," says Kuss. "But I'm lucky that my work usually comes at the end of a stage. Other teammates do a lot at the beginning of stages and are therefore less praised. My nice statistics? I'm never really thinking about that. I think it's especially beautiful that I have been part of several Grand Tours with wonderful memories. It is a privilege to work for leaders like Jonas."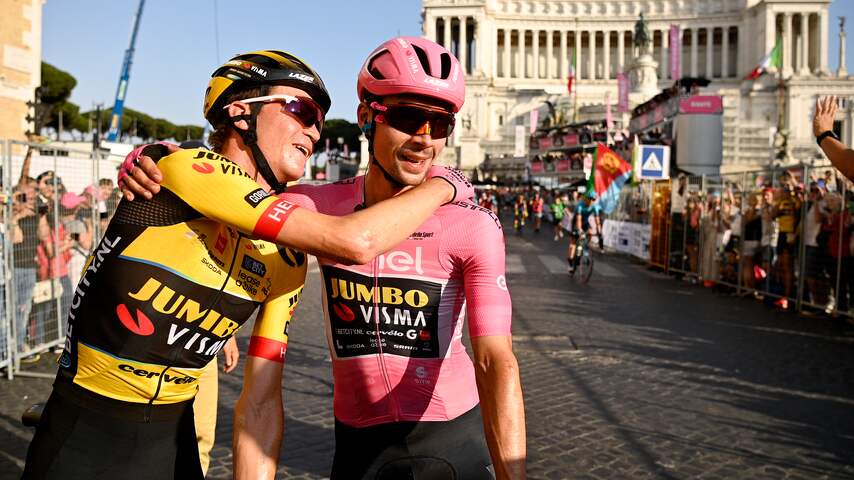 Sepp Kuss (left) celebrates with teammate Primoz Roglic his overall victory in this year's Giro d'Italia. Photo: Getty Images
Could Sepp Kuss not be the leader himself?
Kuss' modest character fits perfectly with his role as a master servant. "We also tried for a season to go for good rankings with Sepp himself," says Zeeman. "But he's just less suited to that."
Kuss struggled too much with time trial and fighting for a good position in the peloton. "Sepp therefore felt that it would be very difficult for him to be there every day for 21 days in a grand tour," says Van Dongen. "It is important for an athlete that you know what you can do, but also that you know what you cannot do. And Sepp knows that damn well."
In his role as a luxury helper, Kuss can pick days when he dangles for hours on end and doesn't have to wriggle. "In the last Giro I saw him constantly in the last ten of the peloton in almost half of the stages," says Van Dongen. "On those days he saves energy and we don't expect anything from him either. That way he can really make a difference on the days when we do expect something from him."
With five tough mountain stages to go, Kuss will be able to show that quality many times this Tour. After that, he may be able to celebrate the win in a grand tour for the sixth time in Paris with a teammate. "Sepp really enjoys a victory from Jonas or Primoz just as much as his own victory," says Van Dongen. "Certainly not every athlete has that. But with Sepp it's just in his character."
Read all the latest news about the Tour de France here
---
---