Will there ever be a sequel Bones (2005–2017)? Hart Hanson, the creator of the popular crime series, is candid about possible plans in an interview with Variety.
Watching
The serial maker says there is hope. "We're in contact with each other," said Hanson, explaining that those involved are constantly updating each other on their availability for a possible reboot.
Everyone in Bones is in touch with each other. At various times it's like, 'What are you doing? What's the availability?'

Hart Hanson
Who has the rights?
Hanson does emphasize that a sequel is not that easy, since the series used to belong to Fox, the channel that was bought by Disney. "So they own the series," Hanson continues.
It would take a million cops and lawyers to find out who owns what and what platform it would be broadcast on. But we keep talking. And every once in a while, we're all nostalgic enough to think, "Maybe we should do it again." Who knows? Maybe this will get us going again."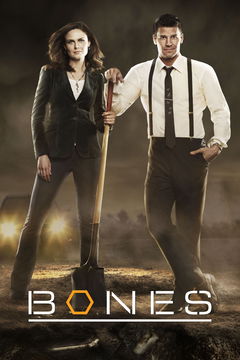 7.8 View on Disney+ • 'Bones' is lightly based on the books by author Kathy Reichs. Temperance Brennan (Emily Deschanel) is a forensic anthropologist at the Jeffersonian Institute.
Whether there will ever be a sequel to the popular series with Emily Deschanel remains to be seen. All seasons of Bones can be seen in the Netherlands on Disney +.
Beeld: Still 'Bones' via TMDb
---