---
25 Jun 2023 at 15:08
An attack on Moscow was narrowly prevented on Saturday after Wagner mercenaries advanced on the Russian capital. But according to experts, that does not mean that their action has no impact. "Putin's authority and his military capabilities are really being seriously dented."
The world watched with open mouth this weekend as Wagner boss Prigozhin and his mercenaries marched on Moscow. There was hardly any resistance from the police and the army, the Russians joined the procession that went straight to President Putin.
But about 200 kilometers from the Russian capital, the march stopped. The reason was an agreement that Wagner concluded with Russia "to prevent bloodshed", Prigozhin explained. This prevented a fierce battle and possibly even a civil war. Nevertheless, according to experts, the consequences are significant.
"The position of the Russian Ministry of Defense has weakened, but so has the position of President Putin," defense expert Peter Wijninga told NU.nl. "Because of Saturday's rebellion, but especially because of everything Prigozhin said in a video statement about the war in Ukraine."
Wijninga is referring to the video in which Prigozhin lashes out at Russia's military leadership. He misleads the people and uses lies to justify the war, he said. "For us that has of course been the truth since the start, but the Russians have been withheld it for a long time because Putin has all information channels under control."
According to Wijninga, it can ensure that the Russian people take a more critical attitude towards Putin and his war. "And of course it doesn't improve the motivation of Russian soldiers at the front either," he adds. "I think the position of the Russian army has been greatly weakened by this."
Get notified about news about the war in UkraineStay informed with notifications
Much unclear about compromise between Russia and Prigozhin
Meanwhile, the actions of Wagner leader Prigozhin raise many questions. Saturday morning he said to destroy everything and everyone who stood in the way of his group. That was not an empty promise, because there are several reports of military aircraft being shot down by Wagner. But hours later, Prigozhin suddenly made another deal with Russia.
We do not know the exact reason, although according to professor and Russia expert Hans van Koningsbrugge there are a few theories. "It may be a compromise that partially got Prigozhin his way," he explains. "It's about sending away the top of the Russian army who, according to Prigozhin, is making a mess of it. Defense Minister Shoigu, for example. The coming weeks will show whether Prigozhin really gets his way."
Russia says Prigozhin will not be prosecuted but must move to Belarus. According to Van Koningsbrugge, the Russians are shooting themselves in the foot with this. "His Wagner mercenaries are the most successful part of the army. Because Prigozhin was always close to his troops and knew how to motivate them enormously. The question is whether that club will stay together after all this."
Internationally, Prigozhin is known as a ruthless killer, but in Russia his popularity is growing. That became clear once again on Saturday evening. He left Rostov-on-Don to loud cheers from bystanders. Since then nothing has been heard from him.
"Belarus does not seem like a pleasant place of exile," says Van Koningsbrugge. "Belarusian president Lukashenko is a very good friend of Putin. So to do him a service, he will keep a very close eye on Prigozhin."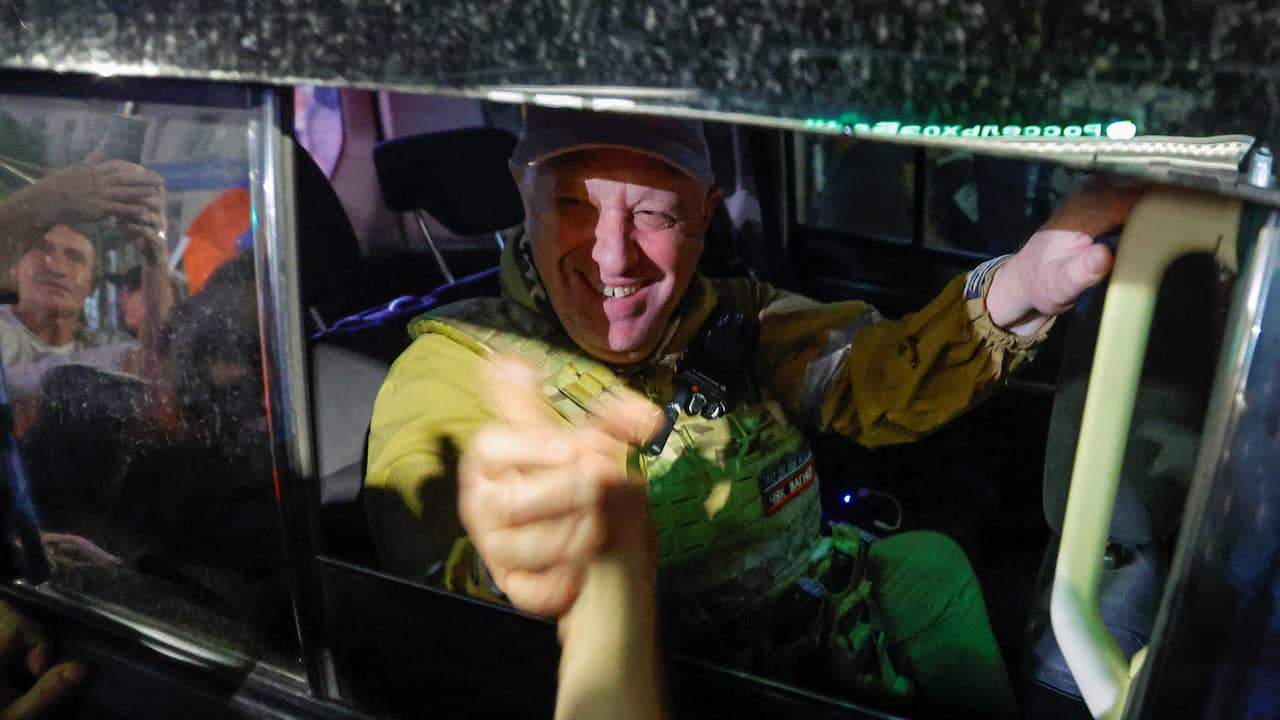 0:47 Play button
Ukraine can benefit from Russian division
While the chaos in Russia is increasing, Ukraine sees opportunities to strike hard. For example, the Ukrainian Defense Ministry said it would attack numerous locations on the eastern front on Saturday evening. "There is progress in all directions," the ministry said. Defense expert Peter Wijninga tempers expectations. He doesn't see any real breakthroughs this weekend.
According to him, Ukraine would only have really benefited if Wagner had actually attacked Moscow. That had greatly distracted the Russian army. "Although there are still opportunities for Ukraine because of the weakening of Putin and his army," says the defense expert. "We have seen units surrender to Wagner and commanders who simply ignored orders from Moscow. The division is there, we will see how decisive it becomes in the coming days."
According to Wijninga, Putin's response is crucial. Because will there be changes in the leadership of the Russian Defense or not? "If that happens, he gives the signal that you can have your own way if you succeed in mutiny. At the same time, we see that dissatisfaction with the leadership of the war is much broader than just among the mercenaries. That may well have an effect, and makes what we saw yesterday an important moment in this war."
---
---