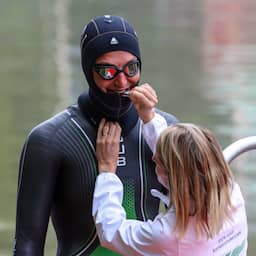 Maarten van der Weijden completed his Eleven Cities Triathlon in Leeuwarden on Sunday morning. With the campaign he raised more than 3.7 million euros for cancer research. The triathlon consisted of 200 kilometers of swimming, 200 kilometers of cycling and 200 kilometers of walking, with as little sleep and rest in between as possible.
Afterwards, the Olympic swimming champion thanked everyone who supported him during his action. The Olympic champion was supposed to arrive in Leeuwarden on Saturday afternoon, but he was too tired for that and had to take a moment of sleep in Dokkum first. He finished on Sunday morning.
Van der Weijden, who himself was cured of leukemia, has often participated in these types of events for the fight against cancer. In 2021, for example, he raised 80,000 euros with a four-day swimming trip in a current pool. Earlier that year he did a home triathlon, in and around his own house. In June 2019, Van der Weijden swam the 200 km long Elfstedentocht in 75 hours. In 2018 he had to give up prematurely.
Half of the 3.7 million euros he raised was raised by people who sponsored his action. Main sponsor Reggeborgh doubled every donation.
---
---