---
Jun 24, 2023 at 06:18 Update: 3 minutes ago
The Russian mercenary army Wagner Group says it controls key military buildings in the city of Rostov-on-Don. Wagner boss Yevgeny Prigozhin vows to deal with Russian military leadership after an alleged attack on his troops on Friday.
What is going on?
The mercenary army Wagner Group, which fought on the side of the Russians in Ukraine, has turned against Russia. Wagner boss Prigozhin vows revenge on Russian army command after an alleged Russian attack on his troops. He has called on Russians to join his "march for justice". The Russian army command calls on Wagner troops to arrest Prigozhin and not to obey him. Security measures have been taken in Moscow and Rostov-on-Don. The Wagner leader says he has 25,000 troops behind him and that he is supported by parts of the army.
Mercenary boss Prigozhin has arrived in Rostov for negotiations with the Russian forces. He demands the departure of Defense Minister Sergei Shoigu and Chief of Staff Valery Gerasimov. According to Prigozhin, all military buildings in Rostov are now under Wagner's control, including the military airfield.
He posted a statement on social media early Saturday morning saying he has 25,000 troops "ready to die" and on their way to Moscow to overthrow the Russian army command. "We will destroy anyone who stands in our way."
There are no confirmed reports yet of fighting between Wagner troops and the Russian security services. Prigozhin claimed on Saturday morning that his troops shot down three Russian army helicopters.
Rostov is an important military hub for the war in Ukraine. The southern military command of the Russian Armed Forces is based there. A large part of the operations in Ukraine is coordinated from there.
Tightened security measures in Rostov
The governor of Rostov has called on residents of the southern Russian region to remain calm and not to take to the streets. "Law enforcement officers are doing whatever is necessary to ensure the safety of citizens in this area. I ask everyone to remain calm and not to leave the house unless necessary," read a message posted on social media Telegram.
Authorities in the northern Lipetsk region say the M4 highway between Rostov and Moscow has been closed. A military column of Wagner is said to have been spotted on that road, but this has not yet been independently confirmed.
The security services in Moscow have also been put on a higher state of alert.
Unfortunately, this content cannot be displayed. We do not have permission for the necessary cookies. Accept the cookies to view this content.
Change cookie settings
'Armed revolt' by mercenaries
On Friday, the situation between the Russian army and Wagner escalated after the Russian army attacked Wagner camps in Ukraine, according to Prigozhin. He has not yet presented any evidence for this. Wagner fights on the Russian side in the war in Ukraine.
Prigozhin then announced that he would take revenge on the Russian army command. Evil must be stopped, he said in a message. According to the Wagner leader, Defense Minister Shoigu personally oversaw the operation against Wagner, which Prigozhin said led to many deaths.
Prigozhin announced a "march for justice" and called on Russians to join it. He also said he had 25,000 troops behind him. According to the Wagner boss, there is no question of a "coup".
The Kremlin denied allegations about the attacks on Wagner camps. The Russian Defense Ministry said Prigozhin's words "do not correspond to reality" and are provocative. According to the Kremlin, President Vladimir Putin is aware of the situation and "necessary measures have been taken".
Russia's Federal Security Service (FSB) said it would launch a criminal investigation into Prigozhin for "calls for armed insurrection". The service called on Wagner fighters not to follow orders from Prigozhin and to arrest him.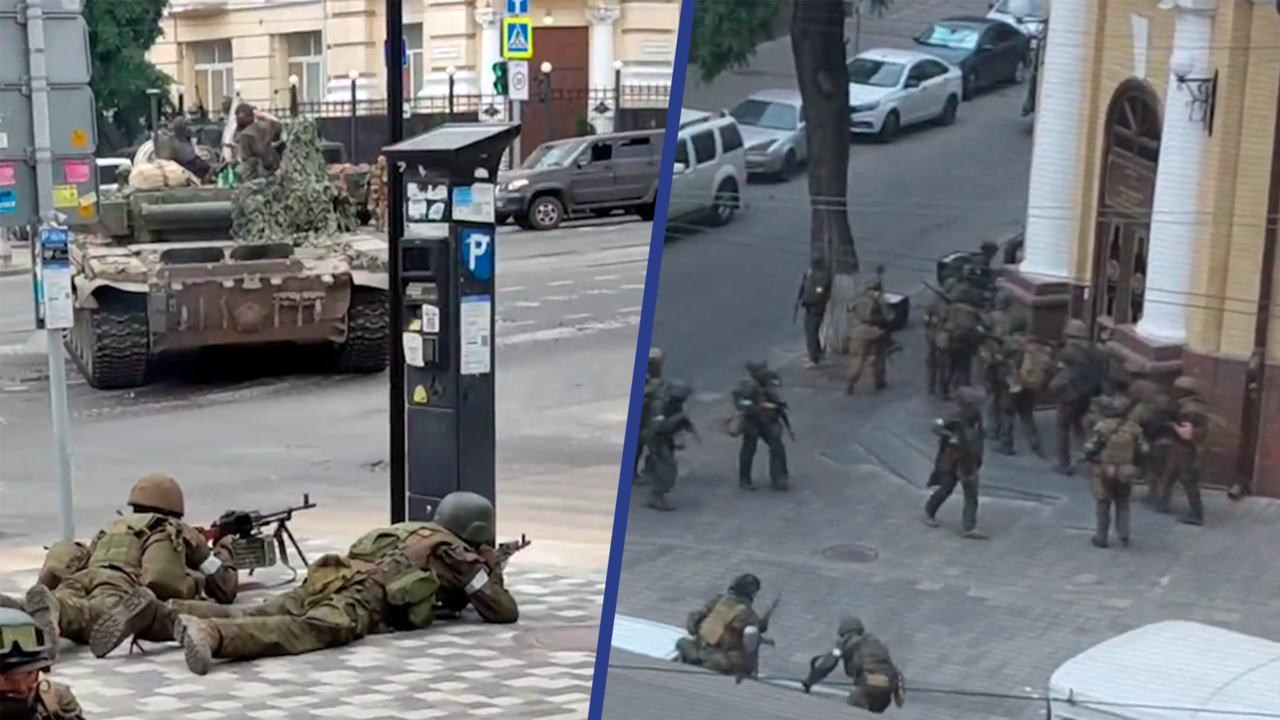 0:58 Play button
---
---