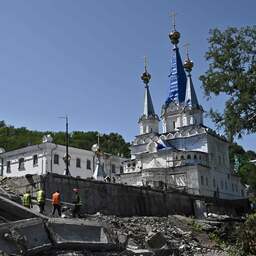 ---
23 Jun 2023 at 06:47
Explosions were heard throughout Ukraine last night. Several cruise missiles have been shot down. Also on Friday morning, there is a warning of new Russian air strikes in several cities.
The Ukrainian army is warning of new hostile airstrikes across the country. There would be indications of attacks with missiles in drones. Those warnings apply not only around the front line, but also far away from it. For example in Lviv, a city in the west of the country.
In the Khmelnitskyi region, about 250 kilometers east of Lviv, Ukrainian air defenses shot down thirteen Russian cruise missiles. The missiles were on their way to a military airfield, the Ukrainian Air Force said in a statement.
The missiles had been launched by Russian strategic bombers from the Caspian Sea area, according to the air force.
Several Russian attacks were reported in Donetsk on Thursday. Bridges, roads, homes and a church were hit.
Russia takes down Ukrainian drones
Russia also allegedly repelled attacks. On Thursday, anti-aircraft guns shot down a drone over the southern Russian city of Kursk, near the Ukrainian border.
The series of attacks took place from Ukraine across the border into southern Russia. According to Russian authorities, there have also been armed raids. These raids would be carried out by anti-Kremlin forces. Ukraine systematically refuses to respond to these attacks.
There have been no reports of damage or casualties.
Get notified of new postsStay informed with notificationsGet notified when we post background piecesStay informed with notifications
---
---