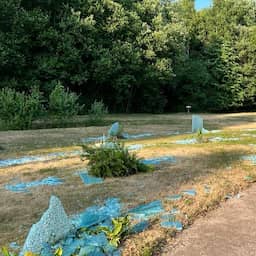 The Netherlands gives generously for the destroyed glass monument for cancer patients in Dronten. The crowdfunding that the relatives of cancer patients have set up is approaching the 200,000 euros needed to restore the artwork within two days.
Almost all of the monument's 67 glass plaques were destroyed in the night from Sunday to Monday, possibly with a hammer. The plaques bore the names of thousands of people who had died of cancer.
Next week, KWF will consult with the municipality of Dronten and Staatsbosbeheer about the possibilities for a new monument.
The organization has received offers from artists and glass suppliers for a new monument and is now making an inventory of all initiatives. "That a monument will return to honor the deceased is certain as far as we are concerned," says KWF.
The action on the website of KWF Cancer Control was set up by Norbert Dikkeboom. The name of his father, who died of lung cancer in 2009, was also on the monument. KWF Cancer Control reported earlier to report the vandalism.
---
---