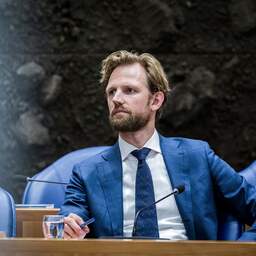 ---
Jun 21, 2023 at 5:08 PMUpdate: 3 hours ago
The Ministry of Education, Culture and Science has received a new complaint about the behavior of Education Minister Dennis Wiersma. A conversation with him was experienced by an external organization as "unpleasant" and "unpleasant".
The incident happened last Monday during a working visit in Bussum. A meeting was held there about 25 years of practical education. Wiersma (VVD) has spoken with the organization about adjusting the programme. Two people involved experienced that conversation as unpleasant.
The organization, the Sector Council for Practical Education, reported this to the ministry later in the week. Wiersma then said that he would like to talk to people about the incident. That conversation has not yet taken place. The minister has been ill since Friday and has therefore also canceled a visit to India.
The Sector Council for Practical Education is now looking at the best next steps. "As long as this conversation is ongoing, we will not comment further on the circumstances of the incident," said a short press statement.
VVD party chairman Sophie Hermans thinks it is "good" that Wiersma wants to talk. "That has to take place now," she responds very briefly.
Wiersma has been under fire for some time
It is not the first time that Wiersma's behavior has been discussed. The minister has been under fire for several months because of reports of misconduct. In April he admitted that he has been sharp and sometimes too fierce with his officials.
Wiersma promised to improve his behavior, talked to those involved and said he still wanted to continue as minister. A month later it turned out that during his time as a member of parliament for the VVD, complaints about his behavior had also been received. Former employees mentioned behavior that they had experienced as "unpleasant and hurtful" and therefore felt unsafe.
The minister then apologized for his behavior in conversation with the faction. He expressed confidence in the minister after he had promised that the misconduct was a thing of the past. Wiersma later repeated his apologies during a VVD party congress. "I've learned my lesson, it's not going to happen again."
Prime Minister Mark Rutte has said several times that he thinks party member Wiersma can stay on as far as he is concerned. The education minister received support from his party leader, who called the messages "painful".
---
---