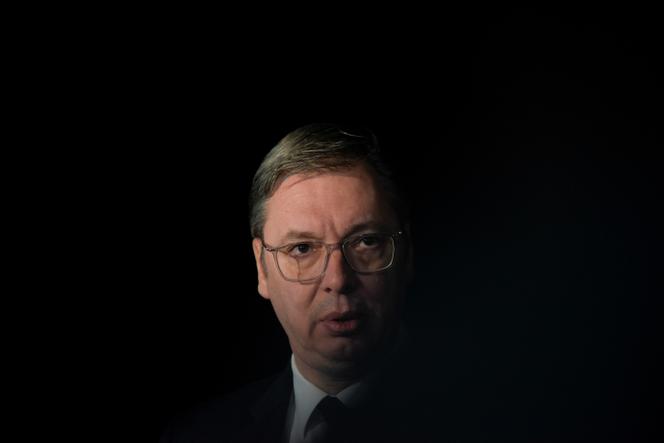 Serbian President Aleksandar Vucic in Ohrid (Macedonia), March 18, 2023. ARMEND NIMANI / AFP
For the seventh time since the beginning of May, tens of thousands of Serbs are expected in the streets of Belgrade on Saturday June 17 to protest against their president. In power since 2014 as Prime Minister, then Head of State, Aleksandar Vucic, 53, is facing a protest movement of unprecedented magnitude and duration. Protesters accuse him of promoting an "atmosphere of violence", which indirectly caused two killings in early May.
This double drama which killed eighteen people – including nine children, murdered by a classmate in their school in the capital – left this Balkan country in shock. Among some of the 6.7 million Serbs, the emotion has turned into unrelenting anger.
"They are demonstrating to stop this violence which is part of our society", explains Dragan Djilas, the president of the Freedom and Justice Party (social democrat), which co-organizes the demonstrations with other opposition movements. so-called pro-European – even if elements of the pro-Russian extreme right are also regularly present there. "In the street there are many young people, teachers, artists who finally want a normal life and that Serbia concentrates on its European path. »
Read the decryption: Article reserved for our subscribers In Serbia, after the killings, the anger of the population against President Vucic
Tired of seeing their country obsessed with the wars in the former Yugoslavia (1991-1999) and penetrated by an over-armed mafia, these Serbs boldly compare their movement to the demonstrations that led to the fall of dictator Slobodan Milosevic in 2000 Called "Serbia Against Violence," the movement has a long list of demands, including the resignation of the interior minister and the head of the intelligence services; but, more broadly, the demonstrators want to put an end to the glorification of violence present in the many propaganda organs of power. Triumphantly re-elected in April 2022 with more than 60% of the vote, Mr. Vucic has certainly promised to "almost completely disarm" the Serbs in the face of the scale of the circulation of firearms, but the demonstrators do not trust him.
Troubled links with mafia clans
A master of tackling, Mr. Vucic can no longer hide his contradictions. A former information minister under Milosevic, he took power in 2014 promising to lead his country towards the European Union, but he has kept close ties with China and Russia. Behind a good-natured and open demeanor, he has never really distanced himself from those who glorify Serbian war criminals, and has never explained his troubled links with mafia clans. He still dominates political life thanks to his control of the audiovisual landscape, where he regularly invites himself for long speeches. According to the NGO CRTA, the president has given no less than 300 televised speeches in one year.
You have 56.53% of this article left to read. The following is for subscribers only.
---
---