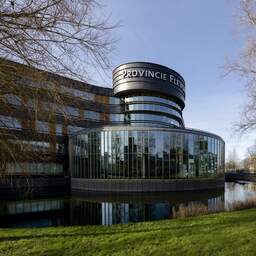 ---
13 Jun 2023 at 17:47
In Flevoland, BBB, VVD, ChristenUnie, SGP and PVV have reached a coalition agreement. After Limburg and Gelderland, Flevoland is the third province where an agreement has been reached.
The presentation of the agreement is Friday in the provincial house in Flevoland. Then the content will also be published.
Formateurs Pieter van Maaren and Herman Sietsma present the agreement together with the chairmen of the five parties: Anja Keuter (BBB), Ellentrees Müller (VVD), Willem Boutkan (PVV), Harold Hofstra (CU) and Geert Post (SGP).
The BBB won the elections in Flevoland, Limburg and Gelderland. Only the BBB has already nominated deputies: Jan Klopman and Jurie van den Berg.
In the beginning of the formation there was a lot to do about the cooperation between the PVV and CU. The parties are far apart, especially on a dossier such as migration. There was a lot of criticism within the CU, especially nationally, but Van Maaren said earlier that the parties have come closer together.
The coalition will be discussed by the Provincial Council on 21 June.
Receive notifications about news about Dutch politicsStay informed with notifications
---
---