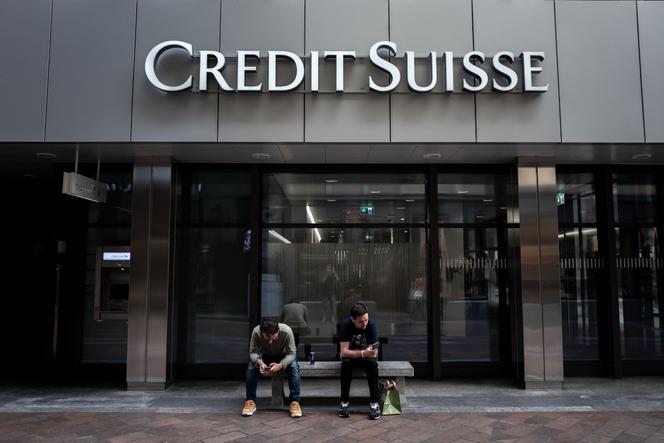 Two men sit under a Credit Suisse sign displayed on a building in Lugano (Switzerland), June 9, 2023. FABRICE COFFRINI / AFP
Always more "too big to fail"? Stemming from the global financial crisis of 2008 (subprime mortgages, fall of Lehman Brothers on Wall Street), the formula refers to around thirty so-called "systemic" global banking establishments, the collapse of just one of which would lead to the , of the entire global financial system.
New supervisory measures (such as the increase in the equity ratio) had emerged, supposed to avoid a repeat of this disaster scenario. It almost happened again in March, when Switzerland's number two in the sector, Credit Suisse, needed last-minute intervention from the federal government in Bern to avoid going under after years of repeated financial scandals and reckless risk taking.
At the end of a weekend of dramatic intensity rarely seen in the Confederation – thirty-six hours of uninterrupted negotiations at the Bernerhof, the Ministry of Finance – UBS had resolved, on Sunday March 19, to agree to resume in the his competitor urgently to save her, after intense pressure from the Swiss authorities.
Shattered reputation
Amount of the transaction, 3 billion Swiss francs (3.1 billion euros), a fraction of what remained of the real value of Credit Suisse despite its shattered reputation. An excellent deal for UBS, "which had been preparing for it in reality for six months and overplayed the bad grace to better be prayed for, notes a financial analyst in Zurich. She was aware that the fall of her rival could involve the whole sector, but also that the conditions offered to seize it were almost unexpected. »
The absorption of Credit Suisse by UBS must be formalized on Monday June 12. It is not as indigestible for the latter as it seemed at first glance. Because the bank has also obtained solid guarantees against the risks incurred. Initialed on Friday June 9, an agreement with the Swiss Confederation provides for a safety net of up to 9 billion Swiss francs. It will only come into effect when UBS has covered the first 5 billion francs of losses.
The guarantee covers a portfolio of 44 billion francs of fragile, toxic or even downright rotten assets of Credit Suisse that UBS has planned to liquidate, or 3% of the total assets of the combined group. This cumbersome "package" consists of derivatives, bad loans and structured investment banking products. "UBS will manage these assets in a prudent and diligent manner and intends to minimize losses and maximize the realization of value on these assets," the bank communicated Friday to its investors.
You have 57.37% of this article left to read. The following is for subscribers only.
---
---