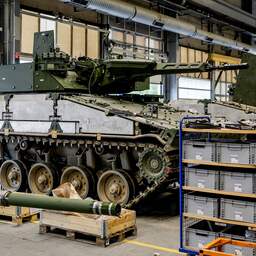 ---
Jun 10, 2023 at 4:31 PMUpdate: 4 minutes ago
The German arms manufacturer Rheinmetall expects to be worth considerably more in the coming years. The war in Ukraine is driving a high demand for ammunition and armored vehicles, which led to record results for the company last year. According to CEO Armin Papperger, Rheinmetall's stock market value could rise from 10.5 billion euros to 17 billion euros.
"That is realistic for Rheinmetall in the medium term," Papperger said in an interview with news site Redaktionsnetzwerk Deutschland. "A large part of our growth can be traced back to the terrible war in Ukraine. No country in Europe is well prepared for a situation where an aggressor invades. The governments have understood that and so the demand for our products is increasing," he explains .
The German government is a key ally of Ukraine when it comes to providing military aid. For example, the country already supplied weapons and ammunition produced by Rheinmetall.
With certain types of ammunition, the arms manufacturer is reaching the limits of its production capacity. We have the largest production capacity in the world when it comes to armored ammunition. There are no problems there. We can now make 450,000 of these a year, but Ukraine alone needs a million."
Papperger went on to say that Rheinmetall also wants to grow with non-military technology. For example, the group develops compressors for heat pumps that make less noise.
---
---