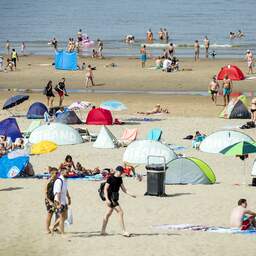 ---
Jun 10, 2023 at 1:22 PMUpdate: 2 minutes ago
The extra trains between Haarlem and the seaside resort of Zandvoort will be used a lot on Saturday, the NS says to NU.nl. It was also busy on the roads to the beach this morning. The Municipality of The Hague is now calling for people to stop coming to Scheveningen and Kijkduin by car.
Normally two trains per hour run between Haarlem and Zandvoort. That's four on Saturday. In addition, the trains between Amsterdam and Zandvoort have been made longer. According to a spokesperson, at least a thousand people can fit in.
According to De Telegraaf, many travelers traveling to the beach in Zandvoort have to stand in the train. "For every person who can sit, there are about six people," a traveler tells the newspaper. "The ride from Haarlem only takes ten minutes and that's why it was just manageable."
People also flock to the beach via the road. The ANWB saw the first traffic jams towards the coast around 9.30 am. People on their way to Zandvoort or Katwijk experienced some delays.
It was also busy on the roads to the Zeeland beaches. Around noon, traffic was still moving slowly there. This also has to do with the closure of the Haringvliet Bridge. The bridge that connects West Brabant and Goeree-Overflakkee will be closed for two months for maintenance.
The parking spaces at the beaches of Scheveningen and Kijkduin are now full, reports the municipality of The Hague. It is advised to park the car in the city center and to come to the beaches by public transport.
An NS spokesperson says that the extra trains between Haarlem and Zandvoort will continue to run all day. As a result, all beachgoers can also return home via the rail at the end of the day.
---
---