Carlos Alcaraz awaits a titanic battle against Novak Djokovic in the semifinals at Roland Garros on Friday. The Spaniard, who is in great shape, can dominate the sport in the coming years, according to John McEnroe. "It is a natural talent," the American tennis icon tells NU.nl.
McEnroe has never seen a player better than Alcaraz at the age of twenty. "Boris Becker did better at the age of eighteen or nineteen, but Alcaraz has developed wonderfully," says the 64-year-old Eurosport analyst. He praises the peace and tranquility in the prodigy's play. "He won't be fooled."
Alcaraz already has a well-stocked trophy cabinet. He has ten ATP titles to his credit, including the US Open last year. His triumph on the New York hard court made him the youngest ever world No. 1 at nineteen years, four months and six days.
Due to his whirling entrance into the world top, Alcaraz is often mentioned as a possible heir to the throne of the 'Big Three': Djokovic, Roger Federer and Rafael Nadal. McEnroe sees no weaknesses in the youngster. In addition to great running ability and strong technical qualities, Alcaraz also has the right mentality, according to the American. "He really is a complete player."
Receive notifications of important developments around Carlos AlcarazStay informed with notifications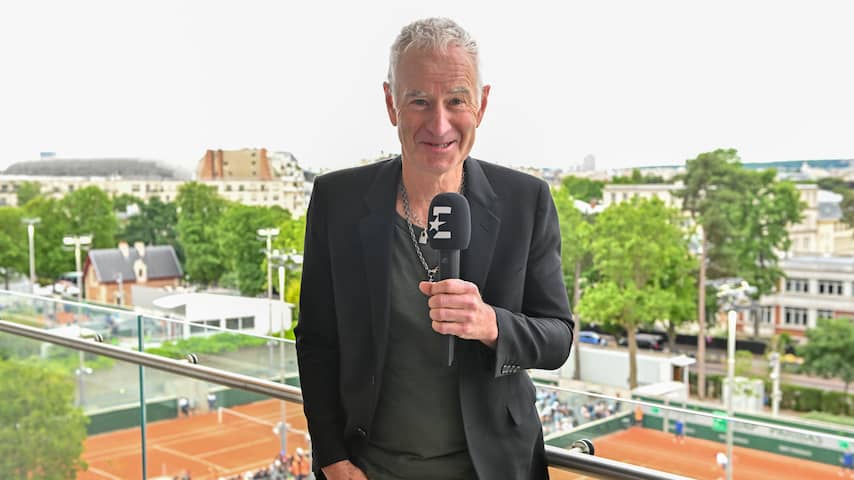 John McEnroe. Photo: Eurosport
'Alcaraz had a short fuse'
At the age of four, Alcaraz could often be found on the court of the tennis club in El Palmar, a suburb of Murcia in southeastern Spain. His grandfather and father failed to succeed as a professional tennis player, but it soon became clear to the little 'Carlitos' that a successful career was possible.
"I immediately saw that he was an exceptional talent," Kiko Navarro, former youth coach of Alcaraz, told The Guardian before Roland Garros. When young Alcaraz didn't master something, he became obsessive about it. "I'm not saying I thought he was going to be the best in the world, but I did realize I had a special player under my wing."
On a local and national level, Alcaraz was the boss of his compatriots. More defeats followed at the international level, resulting in outbursts of anger and tears. "The truth is that Carlos had a short fuse," said Navarro. "I often had to leave him alone for a while if he had lost another match somewhere in the world. He was a very bad loser."
His perfectionism and perseverance eventually led Alcaraz to the world top. But the list leader has never forgotten his roots. He still regularly visits El Palmar to train near family and friends. Navarro: "You can take Carlos out of Murcia, but you can't take Murcia out of Carlos."
Alcaraz acknowledged in Rome last month after a rare loss against the Hungarian Fábián Marozsán (ATP-135) that he has taken mental steps. "I used to be a completely different person. I was always angry and always throwing my racket. I started working on that. Now I have better control of my emotions. Now I enjoy the game even more."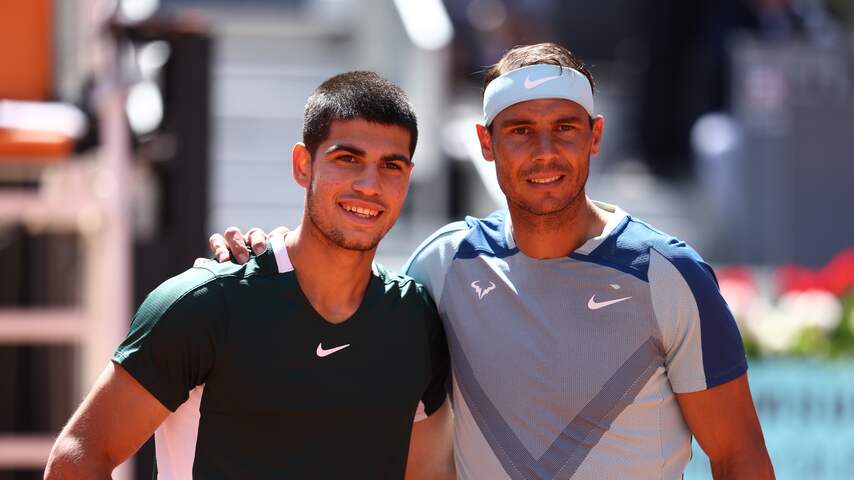 Carlos Alcaraz poses with Rafael Nadal on the tennis court in Madrid. Photo: Getty Images
Titles Carlos Alcaraz:
2023 (4): Buenos Aires, Indian Wells, Barcelona and Madrid2022 (5): Rio de Janeiro, Miami, Barcelona, ​​Madrid and US Open2021 (1): Umag Croatia
Alcaraz strings together tournament victories
Alcaraz is also reaping the fruits of its hard work this year. He missed the Australian Open due to injuries, but then he won the tournaments of Buenos Aires, Indian Wells, Barcelona and Madrid. He suffered only 3 defeats in 2023, against 35 wins.
The audience at Roland Garros can also enjoy the game of Alcaraz. The global number one only gave away forty games in five games in this tournament. He only lost a set in the second round against the Japanese Taro Daniel. In the quarterfinals, top player Stéfanos Tsitsipás (ATP-5) only got nine games.
McEnroe foresees a great career for Alcaraz, but certainly does not want to put him against the yardstick of his legendary compatriot Nadal. "Alcaraz has everything to become an icon. But at the same time I don't want to put pressure on his shoulders. If he wins ten Grand Slams, it's already incredible. Let's beat Djokovic first. That will be a thrilling match."
Alcaraz himself is also looking forward to his second clash ever with Djokovic. At the first meeting last year in Madrid, the Spaniard won 6-7 (5), 7-5 and 7-6 (5). "If you want to be the best, you have to beat the best players," said the title contender after his victory over Tsitsipás. "I feel the energy and love of the crowd. Everyone wants to see that game, but I'm looking forward to it myself."
The semifinal between Alcaraz and Djokovic on the Court Philippe Chatrier starts on Friday around 2.45 pm. The winner will play the final against Casper Ruud or Alexander Zverev on Sunday.
---
---