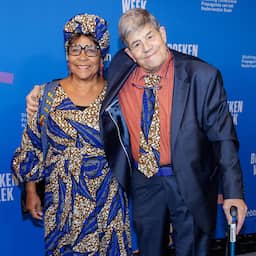 By our entertainment editors
---
08 Jun 2023 at 07:40 Update: 5 minutes ago
Joost Prinsen is happy that the love for his late wife Emma goes hand in hand with that for his new girlfriend Noraly Beyer. The former news reader understands that the presenter misses Emma very much. The eighty-year-old actor and presenter said this on Thursday in the NPO Radio 1 program Never sleep again.
Prinsen's wife Emma died in 2020, after they had been together for almost half a century. Now he is in a relationship with Beyer.
"It is very nice that Noraly handled my loss very sensibly," says Prinsen. "Because it is very twofold. That you miss someone, when you actually already have someone else. You only know that these can coexist when you experience it. And it is important that the new person in your life gets it right knows how to handle."
Prinsen sometimes finds it strange that people now only see him as Noraly's husband, while he was Emma Wildeman's husband for almost fifty years.
"A lot of people now address me as Noraly, because she is famous," he says. "Emma was not known to the general public at all and she did not want that either. But I did kiss the ground on which she walked. That is why I also want to mention her."
The With the Knife on the Table creator has now found out that he was not made to be alone. "I haven't been alone for very long in my life," he concludes. "I can do it alone. But I don't like it and I'm not very good at it."
After Emma's death, he had to force himself into a certain routine. "I had to cook every day. And when I went to sleep, the kitchen had to be tidy. I had to take a walk every day. I had to work very hard the first six months, otherwise I would have been destroyed."
---
---