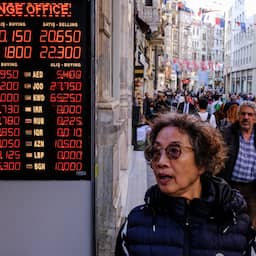 By our economics editors
---
07 Jun 2023 at 08:39
The Turkish lira hit a new low against the dollar and the euro on Wednesday. The currency has been losing ground since the final result of the elections due to concerns about Turkey's economic course.
The question is whether President Recep Tayyip Erdogan will stick to his unorthodox policy. The fall in the Turkish currency follows the re-election of Erdogan, who recently won the second round of the presidential election.
1 dollar is now worth more than 22 lira. The Turkish currency also lost ground against the euro: 1 euro is now worth more than 24 lira.
Economists expect the Turkish currency to depreciate even further if Erdogan does not change Turkey's unorthodox policy. Despite the high inflation, he wants to keep interest rates low in the country.
The Turkish president wants to make investments more interesting with lower interest rates and thus boost the economy. According to him, it will also become more attractive for Turkish consumers to borrow money. He hopes that this will curb the sky-high inflation.
But most economists believe that when inflation is high, interest rates should go up. Higher interest rates make people spend less money. As a result, there is less demand for goods and services and prices fall.
---
---