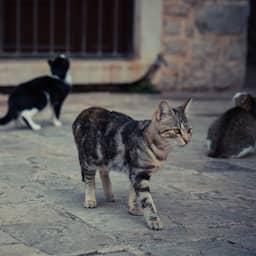 ---
Jun 07, 2023 at 00:13 Update: 8 minutes ago
Some cats have been successfully sterilized with an injection instead of an expensive and intensive operation. American researchers call the shot promising, especially in view of the number of stray cats.
The injection injects a hormone that makes the animals infertile. The researchers injected six cats with the sterilization vaccine. Three cats received a high dose of the hormone, the others received a low dose.
Two years later, the cats with the low dose had kittens, but the other three did not. Four cats no longer showed sexual behavior, the other two did. The scientists can't explain how this is possible.
Although the hormone shot is still little produced, scientists are hopeful. According to them, it is a cheap, efficient and animal-friendly alternative. But before the vaccine can be used, it must first be able to be produced on a large scale.
The injection could especially help limit the large number of stray cats, the researchers say. There are about 600 million cats worldwide, of which 80 percent are roaming without an owner.
This leads to malnutrition, a decrease in the number of birds and overcrowded shelters. The lack of space in animal shelters is sometimes so great that healthy cats have to be killed.
---
---