---
Jun 07, 2023 at 05:17 Update: 8 minutes ago
After a turbulent first season at Bayern Munich, which still ended with the national title, Matthijs de Ligt can also win a prize with the Dutch national team in the final round of the Nations League next week. An interview with the 23-year-old defender about his personal development, his role with the Orange and the thrilling last Bundesliga round.
He still remembers it four years later. "That match is typical of the footballer I was then," says De Ligt on Tuesday morning along the edge of the Orange training field in Zeist.
It is about the last time that the Netherlands played a semi-final in the Nations League. De Ligt was still a teenager and England was the opponent in Guimarães, Portugal. The 41-time international talks about his wrong assumption and the penalty he caused afterwards. But also about how he then made up for his mistake at a corner by making it 1-1. In the end, the Orange won 3-1.
"On the one hand a mistake and on the other hand heading in a ball without fear. That's how it was in those days. I played more on intuition. That has changed. I think more in the field. What is the best option? Yes , I have become calmer. More mature too."
Programma Nations League
14 June 20.45 (De Kuip): Netherlands-Croatia 15 June 20.45 (Grolsch Veste): Spain-Italy 18 June 15.00 (Grosch Veste): Consolation final 18 June 20.45 (De Kuip): Final

Matthijs de Ligt cheers after his striking header against England in the Nations League semi-final against England. Photo: Getty Images
'It was an explosion of emotion'
It is the transformation that De Ligt has undergone through his years abroad. More than a hundred matches for Juventus are behind his name and he has now also completed his first season at Bayern Munich.
"I've had three great years at Juventus, but I can also say that the move to Bayern was the right one. I feel good, I've had a good season."
Because Bayern still won the national title on a blistering final day, he dares to say so. "Personally I can have a good season, but if Bayern does not become champion, then I cannot speak of a successful season. Now I do, although we also know at Bayern that next season can and must be better."
He always held out hope for the title, says De Ligt. Even when Bayern visited FC Köln a week and a half ago with two points behind Borussia Dortmund started the last round of play. "We had a small chance. The last thing we wanted was to drop points and then hear afterwards that Dortmund had not won either. Focus on ourselves. Win ourselves, don't think beyond that."
"But yes, then we suddenly heard our own fans cheer loudly during the match. Then you know that a goal was scored against Dortmund. It was funny to experience it like that. But also intense. You think you have lost the title and then you still grab it. After the final whistle, all those emotions came together, that was the best moment of the season. Yes, it was an explosion of emotion."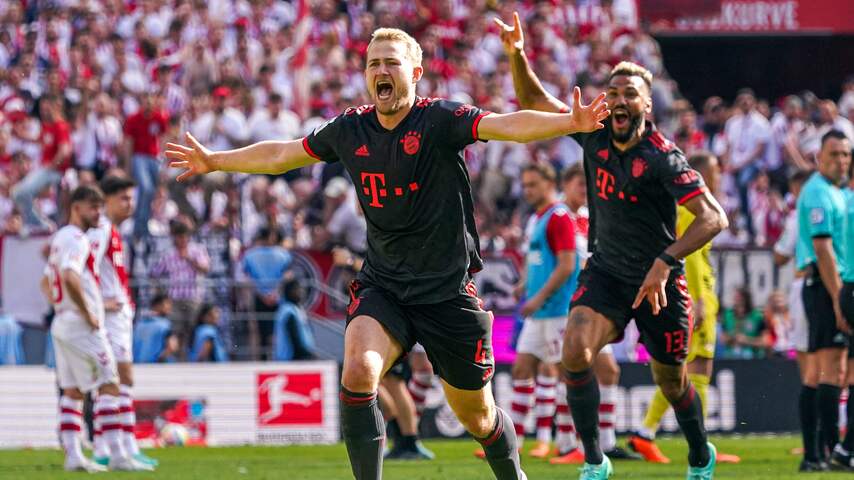 Joy at Matthijs de Ligt after winning the title. Photo: Getty Images
'Afterwards I saw the joy of the Portuguese'
Because Bayern did not get further than the quarter-finals in the Champions League and the DFB-Pokal, De Ligt remained with the title in his first season with Bayern. But with Orange he can now win a prize.
Four years ago, things went wrong for De Ligt and the Orange in the final of the Nations League against Portugal (1-0). "That was the first edition. So I had no idea how to estimate the tournament then."
"But afterwards I saw the joy of the Portuguese. And two years ago I also saw that joy with the final victory of the French. Of course, it is not a European Championship or World Cup. But it is a prize with your country. That is something special."
He draws a comparison with the League Cup in England. "That is also the third prize, after the title and the FA Cup. But if you saw what the win unleashed at Manchester United a few months ago… That was nice to see. That is how we have to approach this tournament now. I have makes a lot of sense."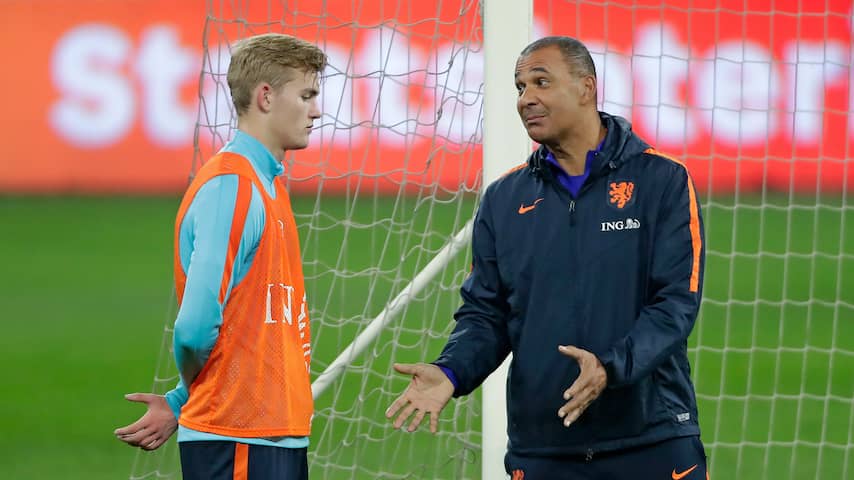 Matthijs de Ligt as a young international in 2017 with then assistant national coach Ruud Gullit. Photo: Getty Images
'We are still fairly at the beginning of the process'
With Croatia as an opponent in the semi-final and then a confrontation with Italy or Spain in the (bronze) final, it will also be a measuring moment for the Orange. "Croatia is the number three in the World Cup. It is a great challenge to play against such a country," says De Ligt. "And see where we are."
He sees an important role for himself in this. "I am no longer that young boy who first joined the Dutch team. I am 23, and that comes with certain responsibilities. As with Frenkie de Jong, Nathan Aké and Denzel Dumfries, for example, we have more boys who are in an important phase in their careers. And all play at big clubs."
"At the Orange we form a nice mix with the more experienced players and the young boys. There is a lot of quality. But that mix needs big games to get better."
De Ligt calls it a process. "And we are still at the beginning of that process. This Orange can grow even further. In a year, at the European Championships, we can be a step further."
Receive notifications of important developments around OranjeStay informed with notifications
---
---