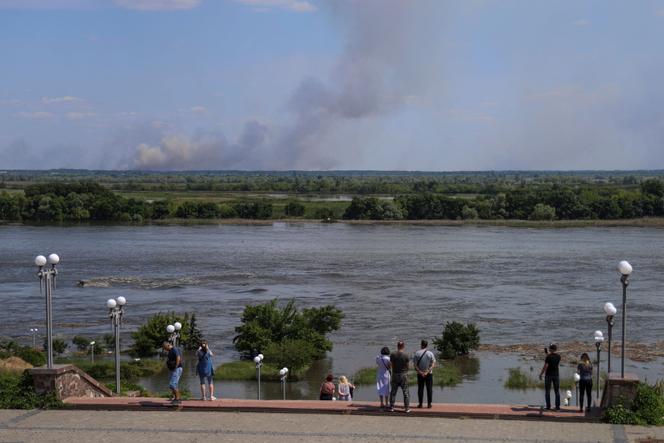 Residents facing the Dnieper, in Kherson (Ukraine), June 6, 2023. STRINGER / REUTERS
It is one of the greatest human and environmental disasters since the start of the war in Ukraine. After the partial destruction, on the night of Monday June 5 to Tuesday June 6, of the Kakhovka hydroelectric dam, controlled by Russian forces, tens of thousands of civilians are threatened by the rising waters on both sides of the Dnieper, which is also a front line. "More than 40,000 people" are at risk of being affected, announced Ukrainian Prosecutor General Andriy Kostin. "The Ukrainian authorities are evacuating more than 17,000. Unfortunately, more than 25,000 civilians are in territory under Russian control," he explained. Tuesday, twenty-four localities had already been flooded at midday, said the Ukrainian Ministry of the Interior.
On the left bank of the Dnieper, occupied by the Russian army, the occupation authorities ended up announcing evacuations after a mess in the morning. In a strange video, published by his press service, the governor appointed by Moscow, Vladimir Saldo, poses in fatigues, military helmet on his head, affirming that "all the cities downstream live normally (…), people circulate normally, stores are open and even businesses are operating." While in the background, in the image, we see the central square of Nova Kakhovka below, deserted and drowned in brownish water.
"Until the middle of the day, communications were cut off and I was afraid that the Russians would forcefully evacuate us to Crimea. But nothing like that happened, "says via encrypted messaging Pavel N., a pensioner from Nova Kakhovka. The man requests anonymity for security reasons. "The occupation administration deserted and took everything. Nova Kakhovka is a ghost town. There's still an emergency service in town and that's it. The hospital, polyclinics and pharmacies have all closed. All the valuable material was taken on board by the Russians". He hastily moved into a house belonging to his in-laws because his street is completely flooded. For him, the catastrophe was predictable. "I am not surprised at what is happening. Everyone here has known for a long time that the Russians mined the dam. »
"A war crime"
Kyiv and Moscow blame each other for its destruction. Ukraine has accused Russian forces of blowing up the dam and denounced it as a "war crime". After denying any explosion at the dam in the morning, the Russian authorities pointed to a "terrorist diversion" by the Ukrainian army, "in order to divert attention from their failed counter-offensive". according to the spokesman for the Ministry of Defense.
You have 61.38% of this article left to read. The following is for subscribers only.
---
---