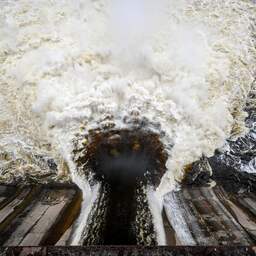 ---
06 Jun 2023 at 06:53
The dam at the Russian-controlled town of Nova Kakhovka, in the southern Ukrainian region of Kherson, has collapsed. Ukraine and the Russian state news agency TASS confirm this. Videos of the breached dam are circulating on social media.
Water flows from a cistern into the river Dnipro, towards the Black Sea. The dam is located about 60 kilometers east of the city of Kherson. According to Kherson's governor, the water could reach "a critical level" within hours.
It is unclear what caused the dam to collapse, or who is responsible. Both Ukraine and Russia claim that the opposing side blew up the dam.
Get notified of new messagesStay informed with notifications
Fear of flooding and water supply nuclear power plant
Flooding in parts of Ukraine is feared, which could exacerbate the country's energy problems.
In addition, the dam has a large reservoir that supplies water to the Crimean Peninsula, annexed by Russia in 2014, and to the Zaporizhzhia Nuclear Power Plant. That water supply can therefore run into problems. As a result, the nuclear power plant may have to deal with lower water levels, while the power plant needs water to cool the nuclear reactors.
The National Police of Ukraine is evacuating residents in the potential flood area. Everyone in the danger zone must also shut off all electrical equipment because of the rapidly rising water.
Ukrainian President Volodymyr Zelensky has announced an emergency meeting.
Unfortunately, this content cannot be displayed. We do not have permission for the necessary cookies. Accept the cookies to view this content.
Change cookie settings
Get notified when we post background piecesStay up to date with notifications
---
---