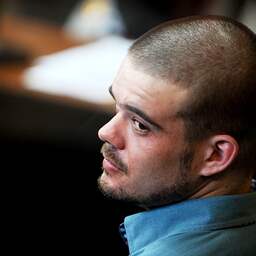 ---
Jun 06, 2023 at 05:35Update: 8 minutes ago
Joran van der Sloot plans to appeal against his extradition to the United States. On Monday, he refused to sign the laissez-passer (travel document) that would allow him to be extradited from Peru.
A hearing on the 35-year-old Dutchman's appeal is likely to follow Tuesday or Thursday, his lawyer Maximo Altez told ABC News on Monday.
Van der Sloot is serving a 28-year prison sentence in Peru for the murder of Peruvian Stephany Flores in 2010. He would be flown to the US state of Alabama to stand trial for extorting and defrauding Natalee Holloway's parents. After a meeting between the then eighteen-year-old American and Van der Sloot in 2005, nothing has been heard from her.
According to American justice, Van der Sloot accepted $ 25,000 (converted over 20,000 euros) from Holloway's mother in 2010. In return, he would lead her to her daughter's body, but it has not been found to date.
The Peruvian judiciary wants Van der Sloot to first serve his sentence for the murder of Flores and drug trafficking. The Americans agree. After a possible trial in the US, the Dutchman will have to remain in prison in Peru until 2045.
On Monday, the Peruvian authorities announced that the extradition is scheduled for next Thursday. A first step was already taken on Saturday when Van der Sloot was moved to another prison in Peru. His lawyer then said that Van der Sloot would not contest this and wanted to go to the US.
---
---