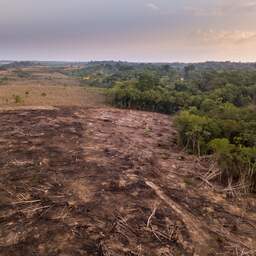 ---
Jun 05, 2023 at 11:43 PMUpdate: 3 minutes ago
The Brazilian government has a plan for how it wants to tackle illegal deforestation in the Amazon. As much prohibited logging as possible must be traced and the government will make sustainable investments.
The plan for the period up to 2030 states, among other things, that intelligence and satellite images must be used to identify crimes. For example, banks may point to payments for the purchase of equipment, such as chainsaws or excavators.
Several ministries must work together to detect and prevent environmental crimes. The government of the new president Luiz Inácio Lula da Silva also wants a quality mark for legal products from the rainforest. It is not yet clear what that system should look like.
Bad condition forests need to be restored. The original plants and trees from the rainforest must grow by investing in nature conservation and sustainable forest management. Climate protection is one of the priorities of the Lula government.
Brazil and more than 40 other countries joined an alliance in 2021 to end global deforestation by 2030. The country was then led by right-wing politician Jair Bolsonaro. But under his presidency, deforestation in Brazil's Amazon region accelerated.
---
---