---
04 Jun 2023 at 05:05
Secretary-General Gijs de Jong of the KNVB believes that the Netherlands has presented its calling card on Saturday with the final of the Champions League for women in Eindhoven between FC Barcelona and VfL Wolfsburg (3-2). He thinks this will help the country win the Women's World Cup in 2027.
"These images are going all over the world, I wouldn't know what could have been better," De Jong said exclusively to the ANP news agency immediately after the final. The final battle in Eindhoven was sold out, although about a thousand seats remained empty and the number of spectators therefore amounted to 33,147.
The Netherlands, Germany and Belgium want to jointly organize the 2027 World Cup. Brazil, South Africa and a joint bid from the United States and Mexico are the competitors. "Of course we are going to win. That must be the attitude," said De Jong. "First of all, you have to hand in a stoneware pray for that."
The countries must submit the bid book to FIFA on December 8. Ultimately, one of the four bids is eliminated in the final round of voting. De Jong recently said at a media meeting in Zeist that the KNVB is lobbying other countries. "We showed again today how hospitable we are."
During a FIFA congress on May 17, 2024, the 211 member countries will decide who can organize the World Cup. In the battle for the World Cup organization, the KNVB is supported by the cabinet, which was delegated in Eindhoven with sports minister Conny Helder.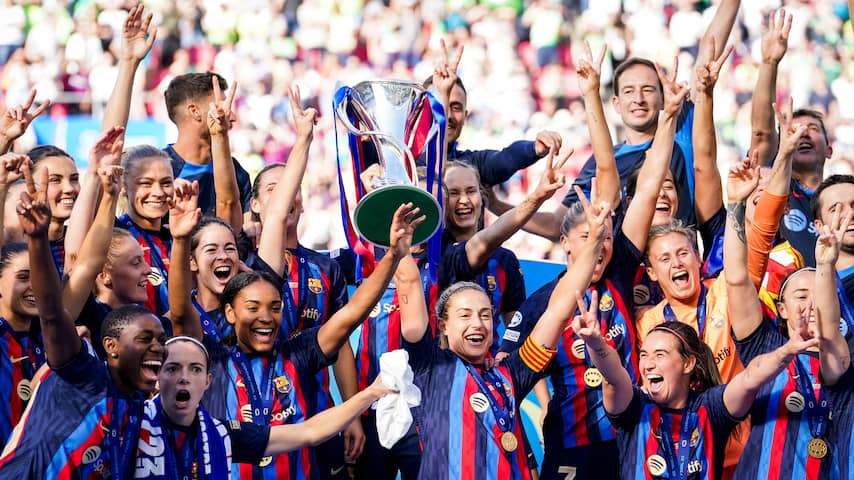 The players of FC Barcelona took the Champions League. Photo: Getty Images
Sports minister: 'World Cup is important for the cabinet'
Helder would like to see the World Cup come to the Netherlands, she told ANP after the final. "We think that is very important. I think that the KNVB and the Netherlands have shown very well that they can handle this."
"This is a very nice day for prayer preparation," she continued. "We are working together with the KNVB. My role will be to strengthen the bid, to see what is needed. I will also see what I can do to include other European countries."
De Jong is currently in talks with the boards of Amsterdam, Rotterdam, Arnhem, Eindhoven, Groningen, Heerenveen and Enschede whether they want to apply as a host city for the World Cup. Utrecht has already indicated that it will not be a candidate.
In the end, four host cities remain. "The goal is to play the opening match in the Netherlands and also for the Orange to play the three group matches in their own country," said De Jong. "It is also important in the near future that we can show that we can generate income, for example with television money. We will also invest a lot of time and energy in this."
---
---