---
04 Jun 2023 at 05:03
This summer we will get more dollars, crowns, liras and Antillean guilders for one euro. The value of our currency at an exchange office is on the rise. That can be interesting towards the holiday season. But it doesn't always make your trip cheaper.
From last summer to this spring, the euro was in bad shape. You even got less than a dollar for a euro and that was the first time in twenty years. "It was doom and gloom with the euro," says ING economist Bert Colijn.
He explains that the value of currencies is strongly influenced by central bank policies. "If interest rates are higher in other countries, that currency will also become more attractive. Because the American and British central banks raised interest rates faster in 2022, the value of the euro came under pressure." Another reason for the weak euro was the high gas price. "We import a lot of gas in Europe and that became much more expensive. This created a lot of demand for currencies other than the euro."
The euro has since regained its luster. The ECB has raised interest rates several times and gas prices have fallen sharply to their lowest level in two years. "As a result, our exports are once again worth more than imports, which is good for the euro," says Colijn.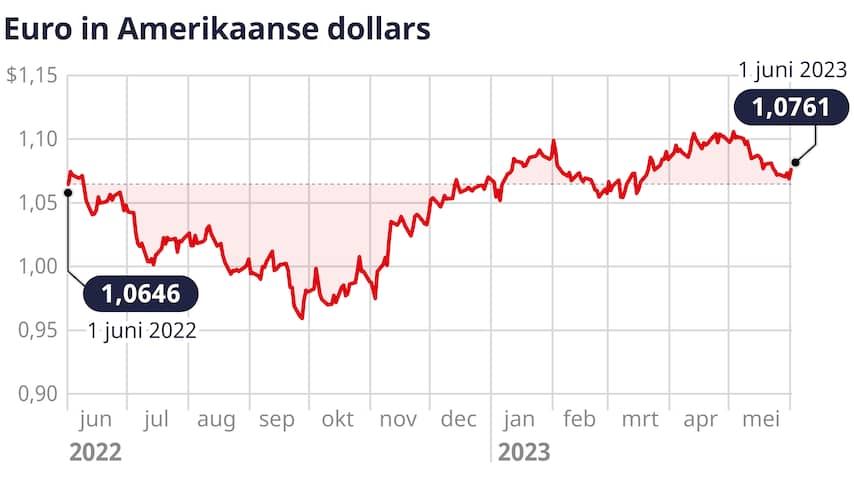 More dollars, kroner and yen
You now get 1.08 dollars for a euro, just a little more than at the beginning of June 2022. The euro has also increased in value compared to many other currencies. For example, you now get 11.63 Swedish kronor for one euro, compared to 10.71 last year. And 149 Japanese yen, against 142 last year. Or 1.45 Canadian dollars, compared to 1.35 last year.
There are countries where you get a lot more other currencies back for a euro compared to the summer of 2022. And that includes popular holiday destinations. For example, the euro has appreciated considerably against the Turkish lira in the past year. This is partly because Turkey keeps interest rates very low to stimulate the economy. Since the re-election of President Erdogan at the end of May, the euro has become worth even more lira. On June 1, you received 22.38 lira for one euro, 28 percent more than a year ago.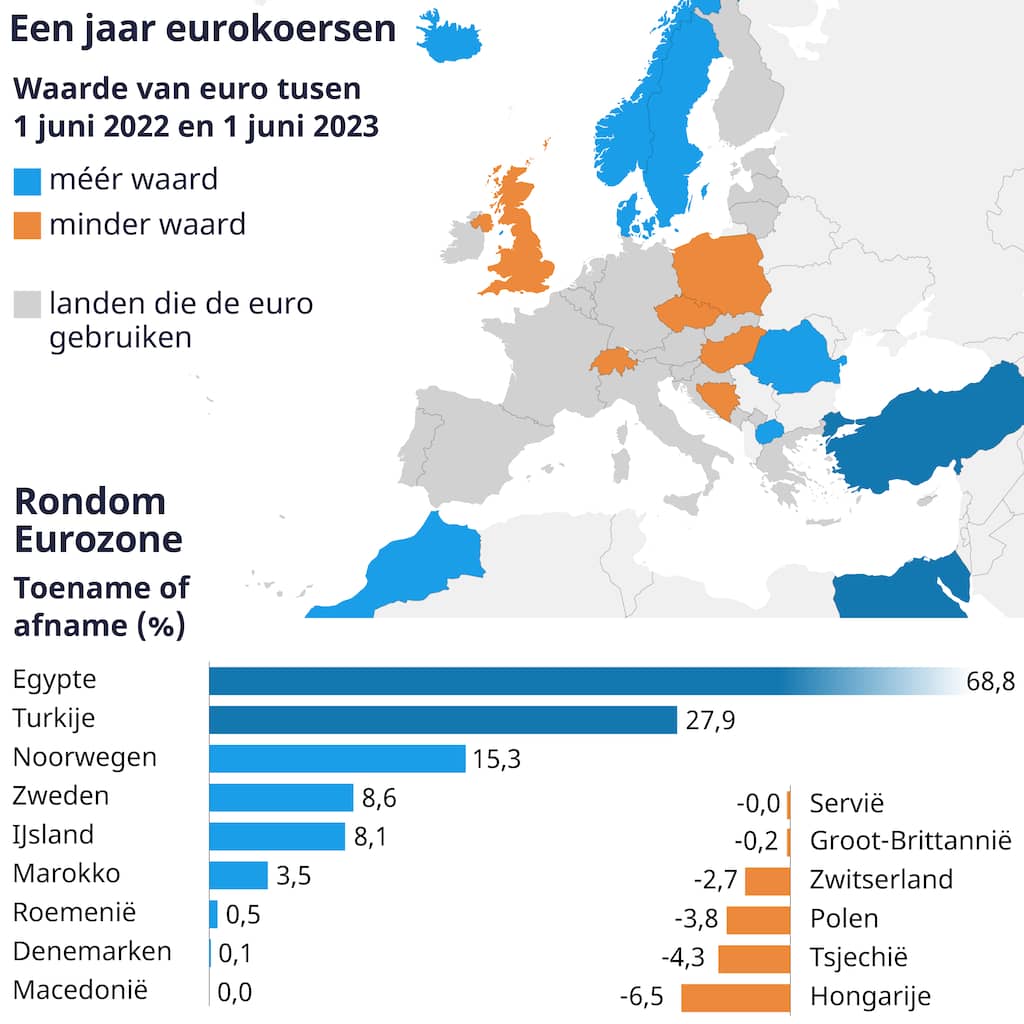 Twice as many pesos, but inflation throws a spanner in the works
There are larger outliers in Egypt, Argentina and Suriname. You now get 33 Egyptian pounds, compared to 19 last year. And in Argentina with 258 pesos for a euro you get twice as much as last year. Also interesting: You will get 71 percent more Surinamese dollars for a euro this year than in June 2022. And at the exchange office you will also get slightly more Antillean guilders for a euro.
A more favorable exchange rate does not necessarily mean that a holiday to Turkey, Egypt or Suriname has suddenly become dirt cheap. Colijn immediately recognizes some countries by the enormous inflation. In Argentina, for example, it is 109 percent and in Turkey 43 percent. "You have to factor in inflation for your holiday. If your cup of coffee becomes 100 percent more expensive, then your advantage of the favorable exchange rate has already disappeared."
Inflation is an average price increase. Certain things may become more expensive in a country that do not bother you as a tourist.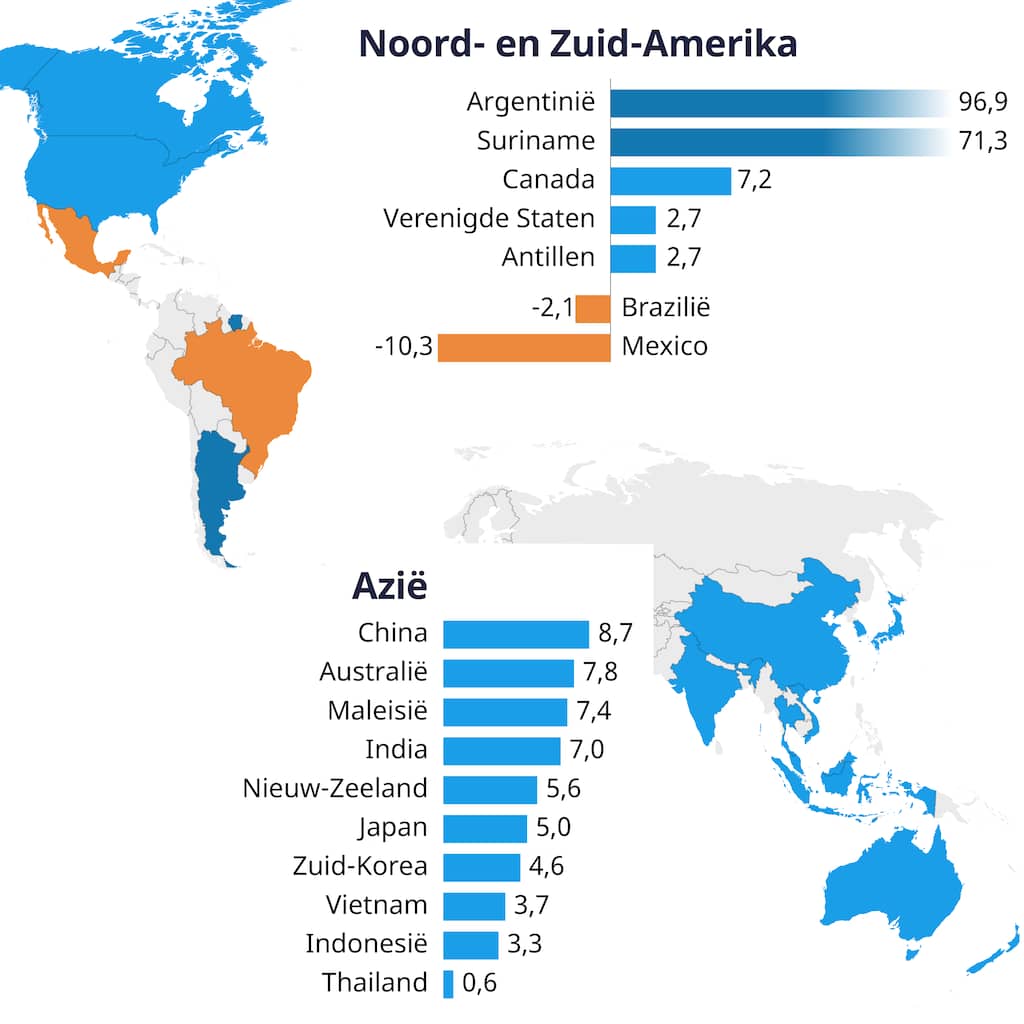 Other outliers such as Egypt and Suriname also have inflation rates of more than 30 percent. In other countries with a more favorable exchange rate, such as Norway, Sweden, Canada and Australia, inflation is not much higher than in the Netherlands. This way you may get more value for your money there.
Frank and zloty, on the other hand, are worth more compared to the euro
There are also some countries where your euro at the exchange office is worth less than last year. This is the case, for example, in Switzerland, Poland and the Czech Republic, and to a greater extent in Mexico. And that while there are also relatively high inflation rates. As a result, your holiday euros will not be cheaper than last year.
---
---