This year there are two Spaniards in Formula 1, but in Barcelona these days only one driver is the big crowd favorite. While he would no doubt like it, it's not about Carlos Sainz, who qualified second on Saturday. Even with a seventh place on the grid, Fernando Alonso remains the absolute superstar on and around the Catalan circuit.
It is Friday morning at Circuit de Barcelona-Catalunya when the drivers are introduced to the spectators one by one in the fan zone. While Williams drivers Logan Sargeant and Alexander Albon have a chat on the podium, the Spaniards are mainly awaiting one man: Fernando Alonso.
This can be heard in the frivolous singing of the hundreds, perhaps thousands of Spaniards standing in front of the stage. The Williams duo are struggling to rise above the cheers of the fans. Once the 41-year-old Spaniard enters the scene, his name is chanted even louder.
It is reminiscent of the early days of Alonso, who, as an emerging talent, single-handedly ensured that the Spanish Grand Prix was sold out for the first time in 2005. Until then, it was mainly MotoGP and not Formula 1 that warmed the Spaniards. "But Fernando made it really popular here," Sainz also admits, who was cheering for Alonso in the stands of Circuit de Barcelona-Catalunya as a ten-year-old boy.
"Our sport has always been popular since then, but I feel like it's picked up again in recent years. Why? Maybe it's a little bit of everything. Who knows, maybe it's because of Netflix or because I switched to Ferrari made it. Fernando's performance also contributed to it, of course."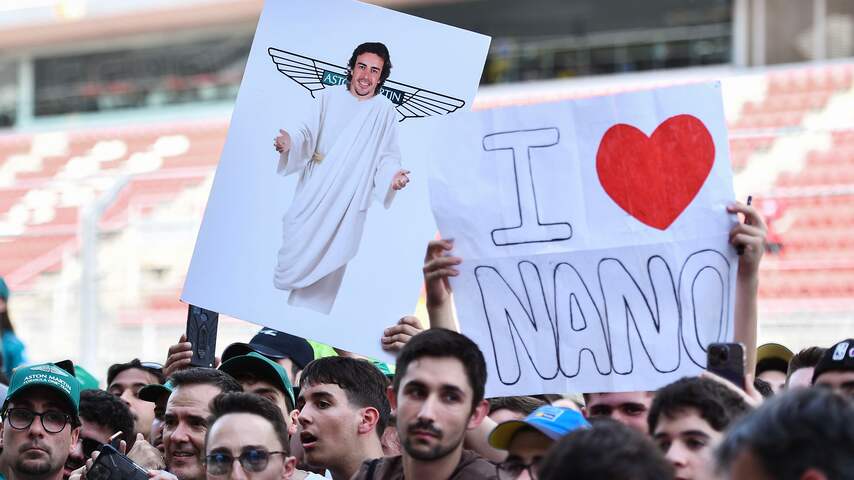 Fernando Alonso is very popular at Circuit de Barcelona-Catalunya. Photo: Getty Images
Alonso did not want to give fans false hope
If Sainz takes a look at the stands, he will see that his latest point is probably the main reason that a record 130,000 spectators may visit the race in Spain on Sunday. Although the Madrilene has its own grandstand – the three thousand tickets were sold out in eight minutes – most of the other grandstands really color Aston Martin green.
Alonso himself undergoes his regained popularity with a big grin. The two-time world champion just doesn't want to give his fans false hope. "Because normally Red Bull is just way too fast for us," he said on Thursday.
"I have often been on the podium in the last races, but there will certainly be weekends this year where sixth or seventh place will be the maximum achievable. If that happens here, the fans should not let it ruin their party."
Those words seem almost prophetic after Saturday's qualifying. Alonso goes off the track hard at the start of the session and drives with damage to his floor for most of qualifying. Eighth place is therefore the maximum achievable for the 32-time Grand Prix winner, who moves up one place due to a grid penalty from Pierre Gasly.
Unfortunately, this content cannot be displayed. We do not have permission for the necessary cookies. Accept the cookies to view this content.
Change cookie settings
Marshals already have Spanish flags ready
Just before qualifying, marshals along the track still dare to dream of an Alonso victory. A marshal standing at a track post in the penultimate corner also has a Spanish flag between his yellow, red and blue flags. "In case Fernando wins on Sunday, I'll give it to him, if he doesn't already have one in his car," says the track employee.
Should Sainz win – and that possibility seems slightly greater than Alonso's chance of winning from second place – the Ferrari driver will undoubtedly also have the Spanish flag pushed into his cockpit. In that case, he would become the first Spanish winner in ten years since – yes – Alonso. Moreover, Alonso's victory in his Ferrari in 2013 was the last victory he achieved in the premier class.
Despite the Spanish dreams, it seems to be at least a year before the Spanish Grand Prix gets another Spanish winner. Max Verstappen has been unapproachable all weekend and took pole position in a dominant manner on Saturday. The orange tufts – the best represented in the stands next to the green and red fans – will probably cheer the loudest again around 4.30 p.m. on Sunday.
---
---